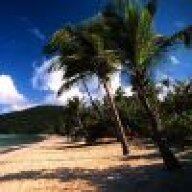 Joined

Jun 10, 2010
Messages

248
Never thought I'd have this kind of update! I started on the list at #113 last June and here I am signing off at #20! I'm engaged!!
I'm going to preface this by saying that unless you know the two of us, this story sounds absolutely ridiculous but it was totally "us".
It happened last Saturday the 20th when we went on vacation in Nags Head in the Outer Banks. I just finished graduate school and was so happy to finally be at the beach for a relaxing vacation. A few hours after we arrive, my SO asks me if I want to take a walk on the beach. I said "no, i'm okay for right now, maybe later."
I was perfectly content sitting on the deck with my drink and taking in the ocean waves. One of my good friends caught on to what was going on after looking at him (he apparently looked nervous) and coaxed us all to the beach as a group. We take the walk down to the beach and I jump on my SO's back for a piggy back ride. Suddenly he leads me in the complete opposite direction of everyone else. I ask him to put me down, he does, and as he puts it, I literally begin frolicking on the beach towards my friends. I was skipping with my arms flailing and just enjoying running on the sand. Next thing I know my SO says "where the F are you going? Get back here!" I turn around and tell him that I was going back where everyone else was because you took me the wrong way. Next thing I know, out comes the ring box and he says "well I wanted to ask you something...can I keep you?" Side note: for the past 2 years we've had this ongoing inside joke that involves telling one another: "I like you, can I keep you?" and I have always said no...till this point. So I look at the ring and back up at him. The first words out of my mouth were "is that real?"
Once it registered that I said that I managed to say "yes" and he put the ring on my finger. Everyone down on the other side of beach started freaking out and we enjoyed the rest of our night!
Yeah--a few days later there ends up being an earthquake and then on Wednesday we had to cut our vacation short and evacuate for Hurricane Irene. Once we got home and braced for the storm it was reported that a tornado hit my town (luckily not near me). Interesting week to say the least...Mother Nature must have been just as surprised as I was!!
At any rate, this was a total surprise that I NEVER expected and I thought that was great. Turns out he found my inspiration pics (legato sleek line but a little sturdier) on my computer and did a ton of research on his own for something that he knew I would like and that he liked as well. I love my ring. It's a RB .71 F SI2 (all I can see is bright white--totally eye clean to me!) Here it is!!