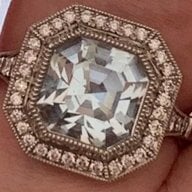 Joined

Nov 16, 2015
Messages

1,113
I decided to try one of the Asscher lab diamond's from Tianyu. I put a deposit down during one of their sales last August and I was hoping to get somewhere in the 8.5-9mm face up size. They cut 3 separate stones over 6+ month's but they were either smaller then I wanted or lower in color. I was looking for a G VS2. After waiting for so long, I decided to go with the largest one and hope that the H color was white enough (2.69 H VS1). After receiving the stone I wasn't that happy with it honestly. It did sparkle nicely but the window was more obvious in person and so was the tint. This was not disclosed on the IGI report. The video they sent me made it look almost colorless but there is definitely some brown tint. I added a cup underneath the platinum setting to help close the window but the tint is hard to fix. Since I write about lab gems a lot for our Reddit groups, I have a tendency to jump in and try things. I have certainly been the guinea pig on a lot of stones and new companies. I do this knowing over time if I don't like something, I can always change it down the road. This is not my e-ring but just another ring. I have already verified with Sam that it would be possible to change the stone if I wanted to down the road.
For the setting, I wanted to do something close to my avatar again because I just love the glam look of the setting. I went with the same general shape but changed up some of the details. I have tried several vendor's over the years but I always go back to Sam at deBebian's because he has an eye for details and just know's my style. I also like to try a few experimental details on my setting's and wanted to incorporate a flower when it was face down. I also wanted to add as many brilliant cut's to increase the sparkle factor on this setting.
We went with 1.6 mm round halo stone's with baguette corner's. Underneath, we did a marquise flower with VS G with 2 @.12 and 4 @ .10. I decided to add a little extra miligrain and engraving so I could save the band from the scratches that will inevitably come from some of my platinum bands. I added some light engraving on the fascia and an almost flush diamond cuff. The symbol with the rubies at the bottom is for my daughter's birthstone. I should get this some time next week.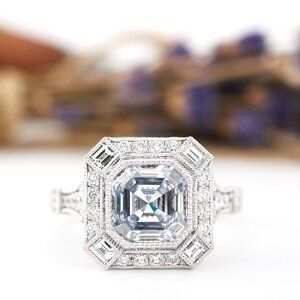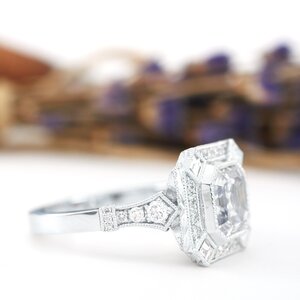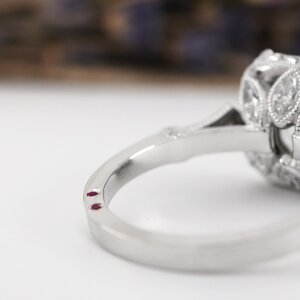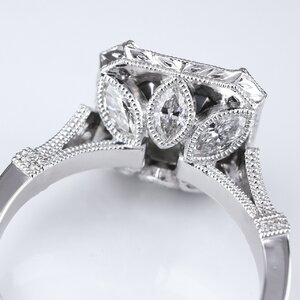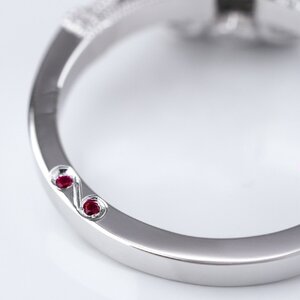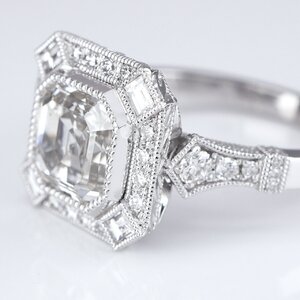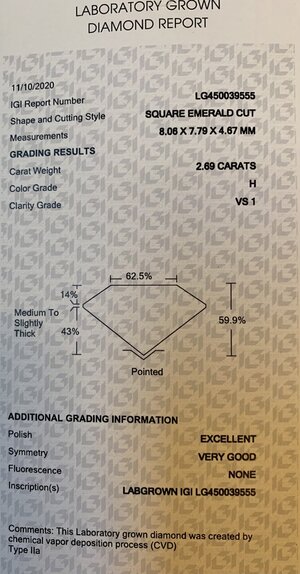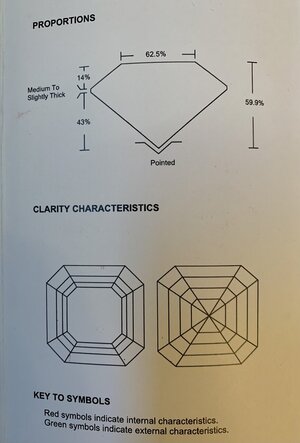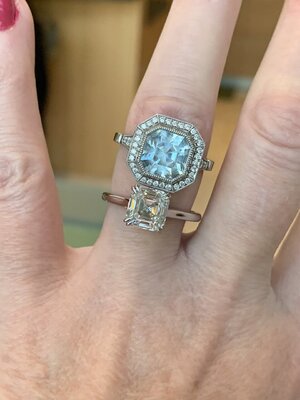 Last edited: