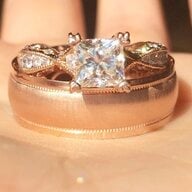 Joined

May 19, 2020
Messages

1,983
Hi!
I have my heart set on some kind of solid gold watch, 14-18k that ISN'T gold plated. Obviously Rolex is the goal, but doesn't fit the budget right now, plus I'm just shopping around.
I've found Tissot that offers a 18k solid gold bezel, but that's about it.
Most of the gold watches I've found are vintage, second hand, and horribly ugly.
I thought "there's GOT to be somewhere that is making new, modern watches in some kind of gold that isn't plated, but I can't find ANYTHING!!"
Thanks!