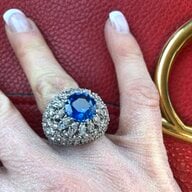 Joined

Dec 15, 2021
Messages

118
On this very sad day, it seems fitting that my very first mourning brooch arrived in the mail.
I have been wanting the perfect mourning brooch and this piece literally asked me to be its next caretaker.
I take that responsibility seriously.
It is an enamel/amethyst/seed pearl/14k gold/milgrain brooch with the back engraved "John Lowell" "March 12,1840"
"Age 70"
John Lowell was a prominent federalist who penned part of the federalist papers.
I adore everything about it and my question is … under my loupe it is very grimy.
Dirt between the amethyst and the pearls.
Should I give thus 180+ year old a gentle steam or leave it's original patina????
It's taking all my willpower to leave it as is.
Oh…I recognize two corners have enamel damage. That doesn't bother me.
The dirt does.
All expert advice needed please….