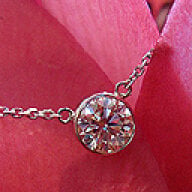 Joined

Oct 30, 2002
Messages

31,003
Found this HOF ring today on eBay (also found out there are 2carat Signity Star solitaire pendants for $20 in white gold...a nice little present for myself since now that we have spent our 'budget' on my ring..I won't get any other jewelry for MANY MANY months (years?!))...

It's interesting because we were looking at HOF originally and a similar stone to this one was around $10k at the local HOF jeweler. They said they couldn't negotiate due to prices set by HOF (?) so our entire ring would have been around $11k for a 1c set in a similar setting as this one (CA taxes and setting). He is selling it for $7k. It's AGS triple ideal 000 with the AGS certification and some other documentation..

http://cgi.ebay.com/ws/eBayISAPI.dll?ViewItem&item=987090999

If anyone can make out the Depth and Table let me know..as I somewhat made out the crown angle at 34.5 and pav angle at 41.1 but without the other stats can't run it through the HCA for curiousity's sake. Must also say that the HOF we saw at the jeweler locally were BEAUTIFUL and really some of the sparkliest and most brilliant diamonds I have ever seen.

So if anyone is interested in the HOF diamonds, this looks like a great deal! $3k off retail.