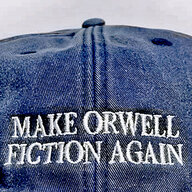 Joined

Apr 30, 2005
Messages

27,733
So says John Richards, who founded The Apostrophe Protection Society.
I agree with his quote.
Society increasingly embraces stupidity, eschews and even disdains science, and respects a guy "dying for his belief that the earth is flat".
WTF?

Nowadays we are supposed to accept the thoughts of kindergarten dropouts as much as thoughts of those with Ph.Ds.

Now that we're all equal, the thoughts, beliefs and actions of every person on the planet is equal too. Right?
Last year, the Apostrophe Protection Society was disbanded, having supposedly failed in its mission. But what is the correct use of the grammatical mark anyway, asks Helene Schumacher.
Last edited: