Frenchblue originally posted this antique diamond and sapphire engagement ring on the Show Me the Bling forum at PriceScope. This gorgeous flower took my breath away! It's a statement and a half! What is your favorite part of this gorgeous ring?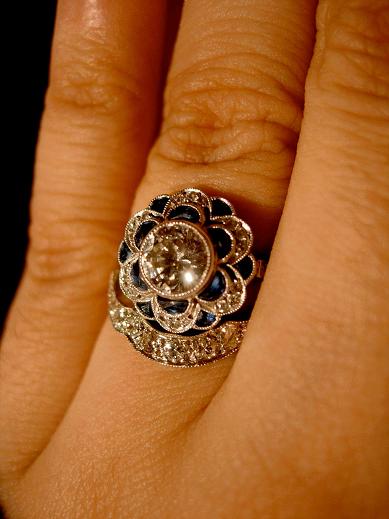 I cannot get enough of this ring; I love the use of color! It's such a unique look for an engagement ring, and the wedding band fits with it so beautifully! I have been really leaning into enjoying PriceScope eye candy while remaining "socially distant," and this one was such a treat! I really hope that Frenchblue is still wearing and loving this ring! From one Harry Potter lover to another, this is stunning!
This ring was purchased from Fay Cullen.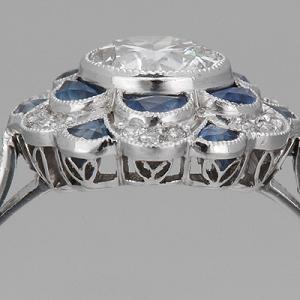 The Stats:
Frenchblue says:" the diamond is an OEC, .70, H SI1. I've seen it under magnification and all I can see for inclusions is a couple tiny bubbles and a very small feather. no dark spots at all. I know that for what we paid I could have got something bigger and brighter, but I couldn't have ended up with this "piece". it's entirely unique and I love that it is antique.
other info: the sapphires are medium blue color, "French square-cut" that total 0.56ct, and the other diamonds total 0.12ct and are H-I SI1 OECs."
It is set in platinum.

Visit the original post with more pics and join me in congratulating Frenchblue! What is your favorite part of this gorgeous ring?
On Throwback Thursdays, we celebrate beautiful pieces that have been shared over the years!
Thank you so much for sharing your jewelry experiences with us. Keep revisiting PriceScope's past with us each Thursday!
#TBT
Come show off YOUR fantastic bling with fellow jewelry lovers and trade professionals