Canong7 originally posted this stunning tension set engagement ring on the Show Me the Bling forum at PriceScope.  There is something particularly fascinating about a tension setting, it nearly looks like it is magically hovering! Show us your favorite tension settings!
Like so many, Canong7 leaned into the PriceScope community when starting the search for an engagement ring. Tension set rings have such a unique look that features the diamond in a different way than more traditional settings, and really is a testament to the precision of the craftsmanship. This grey gold just adds to the extraordinary look of this ring. Niessing specializes in tension settings, and this one is a fabulous example of their skill!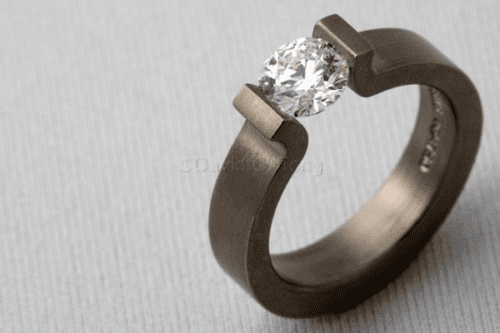 Canong7 and his intended had the entire observation deck of Top of the Rock, on Manhattan's Rockefeller Center, when he proposed on rainy evening. This tension set engagement ring got him a big YES!  I hope that it has been a lovely marriage filled with joy! Maybe if we ask nicely he'll come back and give us hand shots!
The Stats:
The ring: Niessing Open-End Tension Setting in 18K grey gold, size 4.75
The diamond:
Round Brilliant
Measurements: 5.79 – 5.82 x 3.56 mm
Carat Weight: 0.72
Color Grade: F
Clarity Grade: VS1
Cut Grade: Excellent
Proportions:
Depth: 61.3 %
Table: 55 %
Crown Angle: 35°
Crown Height: 15.5 %
Pavilion Angle: 40.8°
Pavilion Depth: 43 %
Star length: 50 %
Lower Half: 75 %
Girdle: Thin to Medium, Faceted
Culet: None
Finish:
Polish: Excellent
Symmetry: Excellent
Fluorescence: None
Clarity Characteristics: Feather
HCA score: 1.5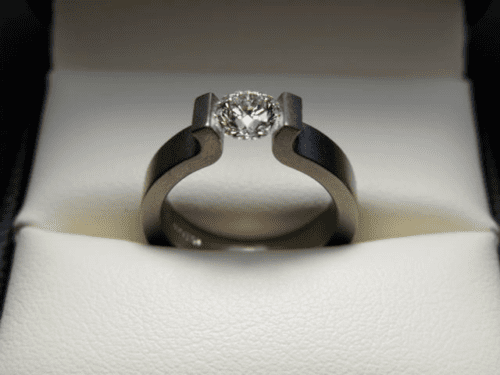 Visit the original post with more pics and join me in congratulating Canong7!  Come show us your favorite tension settings!
On Throwback Thursdays, we celebrate beautiful pieces that have been shared over the years!
Thank you so much for sharing your jewelry experiences with us. Keep revisiting PriceScope's past with us each Thursday!
#TBT
Come show off YOUR fantastic bling with fellow jewelry lovers and trade professionals
Learn more about what diamond to buy from PriceScope