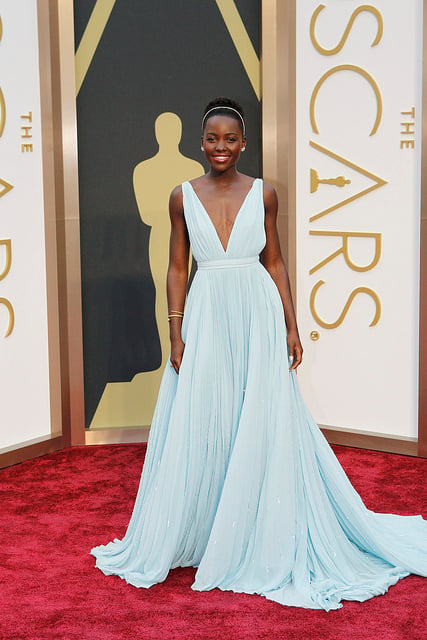 "135063_1010" by Disney | ABC Television Group is licensed under CC BY 2.0
Lupita Nyong'o has skyrocketed onto the scene. Her role as Patsy in 12 Years a Slave threw her into the spotlight. However, it is easy to believe that she has quickly become a style icon because of her A-list role. Yet, there are many who are able to secure life-changing roles and still don't reach style icon status, especially in such a short amount of time.
So, what is it about this Yale School of Drama grad that has propelled her into the hallowed halls of fashion? What is that magical "je ne sais quoi" that has Miuccia Prada, Lancome and others entranced by her presence? Consistency. Nyong'o consistently delivers on her red carpet looks and when she is just walking the streets of New York City.
Want to steal her style tips even if you don't have designers throwing beauty contracts and designer clothes your way? If you have a series of holiday parties on the horizon, then take her red carpet style and select chic, sleek and bold colors. Nyong'o never goes overboard on embellishments or dresses with too many details, instead she favors classic cuts with one interesting detail. This is crucial when you are wearing bold colors. Her clothes never fight for dominance and this allows her to focus on her makeup and accessories.
Nyong'o loves her accessories as she is rarely photographed in her downtime without them. She favors hats, headbands, interesting sunglasses, scarves and minimal jewelry.
Nyong'o style has resonated throughout the world, from her home country of Kenya to the United States to the United Kingdom. Her flawless skin, style and cool as a cucumber elegance has captivated millions. Now with her new role in Star Wars: The Force Awakens, she will reach even more people and we can't wait to see what she will be wearing on red carpets and promo tours everywhere.