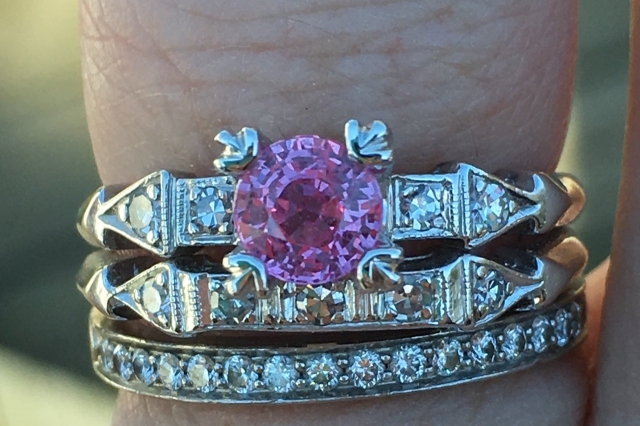 StephanieLynn is Pretty in Pink
StephanieLynn shared her gorgeous pink sapphire ring with us on the Show Me The Bling Community at PriceScope.com I just love this pop of bright color set in antique mount! Good use of color is sometimes overlooked, because jewelry often needs to go with many wardrobe choices, and so bright eye popping colors don't always fit the bill. Sometimes, however, you find a piece that is bright and fun while remaining classy, and it just fits who you are.
Another angle of this gorgeous ring!
How can you not love this setting, StephanieLynn believes it is from the twenties or thirties! Art deco and antique settings will always have a place in beloved jewelry collections!
The Stats as she knows them:
It's hard to catch the wonderful details but there is some delicate milgrain on both rings,
there are two small diamonds on either side of the sapphire and five small diamonds in the band
Want to see the entire post with more pics? the bling is in here!
The Jewel of the Week is our chance to feature and appreciate a recently posted piece from the Show Me the Bling Community!
Thank you so much for sharing your jewelry experiences with us. We look forward to seeing more!
#JOTW
Curious about the embellishments Learn about Engraving, Millegrain, and Intricate Gallery work, here.
Come show off YOUR fantastic bling with fellow jewelry lovers and trade professionals in the Show Me The Bling Community at PriceScope.