By PS Staff
Welcome to the second installment of our Oscars jewelry special. On this week's post, we will be highlighting some beautiful bracelets from our Featured Sponsors. Once again, all the bracelets you will see here can be found on our website. Now, without further ado, let's start looking at some bracelets!
Sapphire and Diamond Bracelet

Swirl Bracelet, $137,500

at Ritani
Thanks to the late Princess Diana and Duchess Kate, sapphires are still one of the most popular gemstones to date. So we can guarantee that this gemstone will not only be making an Oscar appearance, but that the starlet who wears it will take advantage of one of 2016's biggest trends, nature-inspired looks.
Diamond and Emerald Bracelet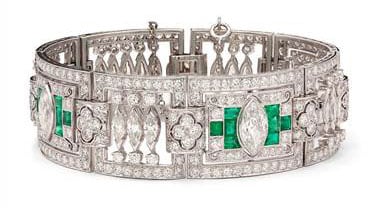 Estate Art Deco Bracelet, $81,000

at Blue Nile
Jewelry done in the Art Deco style continues to be one of the most popular looks among the Hollywood elite and mere mortals. We can see this bracelet on one of the best actress nominees. It's a scene-stealer and belongs in the spotlight.
Bead Bracelet

Garland Bead Bracelet, $795

at Blue Nile
Diamonds may be a girl's best friend but sometimes you want to be a little less . . . radiant. For the woman (or girl) who is more of a free-spirit or who loves minimalism, this bracelet is for her. Don't be surprised if you see Rooney Mara walking into the Oscars wearing this delicate beauty on her wrist. We know she would do it justice and it would do the wearer justice any day of the week.
Emerald-Cut Diamond Bracelet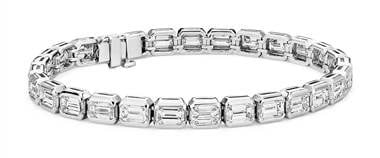 Emerald-Cut Eternity Bracelet, $50,000

at Blue Nile
This bracelet is a staple at every black tie awards ceremony. Hey, if it ain't broke, don't fix it, right? This bracelet strikes the perfect balance between nearly 12 carats of diamonds without stealing the wearer's thunder. Although it is great for any event, you can also wear it any day of the week without it looking out of place.
The upcoming Oscars have the potential to not only be one of the most star-studded but also the best-dressed Oscars in history. We can assure you that stylists right now are poring over bracelets to place on their clients this very minute because you can't place a foot wrong on The Oscars' red carpet.