By PS Staff
Super Bowl isn't the only major event happening in February. As you have probably heard, the Super Bowl of acting is the 88th Annual Academy Awards – better known as The Oscars – which will take place February 28, 2016.
The Oscars is the apex of the award show year which is why the actors and actresses bring the BIG guns out when selecting their clothes and jewelry for the BIG night. The Oscars can even be considered the most influential fashion event of the year because of the extreme coverage, from magazines to blogs to television shows analyzing every aspect of the attendees' looks.
So in the spirit of the Oscars, we have decided to devote a series to the Oscar-worthy jewels you can find right here at PriceScope. Today we are taking a look at some jaw-dropping earrings which are perfect for your walk on the red carpet or any black tie event. Enjoy looking at these dazzling earrings!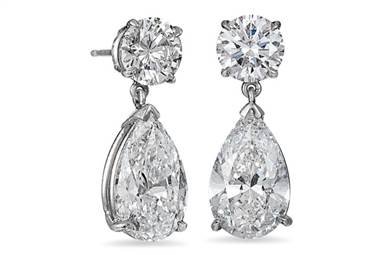 Pear-Shaped Brilliant Diamond Drop Earrings, $179,400

at Ritani
These brilliant diamond drop earrings are a sure win at any event. In fact, we would go so far as to say that there will be at least one actress wearing a pair of earrings that look just like this.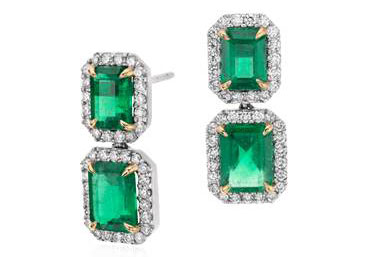 Emerald Cut and Emerald Diamond Earrings, $15,000

at Blue Nile
Oh my, these emerald beauties are sure to make everyone green with envy. The diamonds are framed with round diamonds and add just the right amount of sparkle to make sure everyone sees you all night.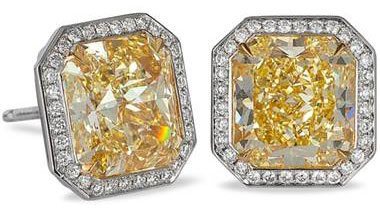 Fancy Yellow Halo Earrings, $136,500

at Ritani
These earrings combine two of the top jewelry trends for 2016, fancy cut diamonds and a halo setting. Just when you don't think their color can get more intense, the micropave halo intensifies the diamonds' already vivid yellow color.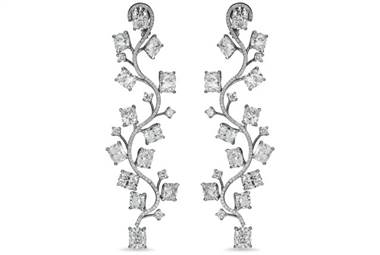 Diamond Vine Drop Earrings, $156,000

at Ritani
Elegant, refined and full of sparkle, these earrings are a sure way to steal the spotlight. The platinum setting gives the diamonds maximum sparkle and the design is right on time for all the nature-inspired looks we have been seeing on the runways.
Are you ready to find the nearest red carpet and light it up? Of course you are, but remember you don't have to travel far to get your hands on these beauties. Just visit us here at PriceScope and stay tuned for the next Oscar edition featuring beautiful bracelets! See you soon!
If the above is not what you're looking for, click here to search for more (Resources >> Jewelry Search).