ZestfullyBling originally posted this incredible sapphire in diamond halo ring on the Show Me the Bling forum at PriceScope. The color of this sapphire is stunning, I love the light blue, near periwinkle hue and the white diamond halo just makes it pop even more.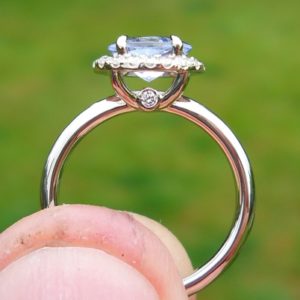 This custom made ring by Michael E. really creates a gorgeous profile. I love diamonds (I mean, don't we all?) but I also have a soft spot for colored gems (and pearls, what can I say, jewelry is fabulous). This light blue sapphire seems delicate though sapphires are a 9 on the Mohs scale! Diamonds are the only crystals that are harder than sapphires and rubies.
The Stats:
eighteen 1.3mm diamonds on halo
two 1.3mm bezel on each side of shank
2.2mm white gold shank
unheated Ceylon light blue sapphire
1.67 carat (Size: 8.4 x 6.1 x 4.4mm deep)
Go see the post with more pics!
On Throwback Thursdays, we celebrate beautiful pieces that have been shared over the years!
Thank you so much for sharing your jewelry experiences with us. Keep revisiting PriceScope's past with us each Thursday!
#TBT
Come show off YOUR fantastic bling with fellow jewelry lovers and trade professionals
Here is a forum just for sharing the Colored Gemstone love