By
Erika Winters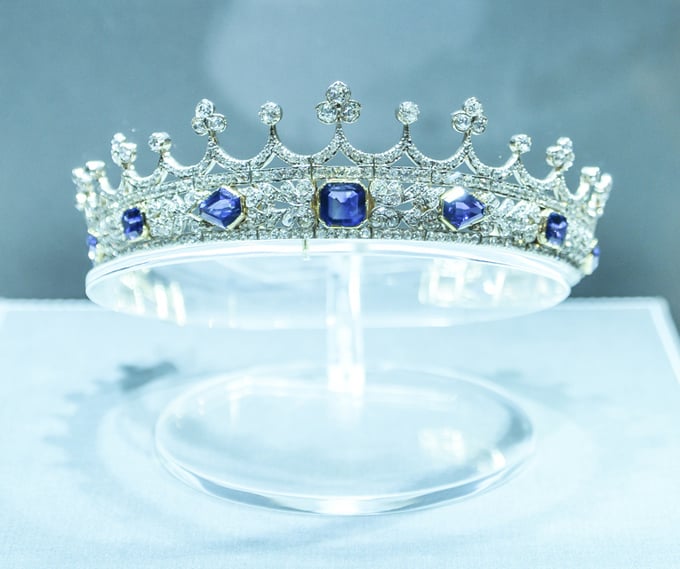 Queen Victoria's sapphire and diamond tiara, circa 1840, on loan from a private collection by arrangement with Wartski, London. Via Artfix Daily
Antique and vintage jewelry lovers will find an array of jewels at the Winter Antiques Show, which runs through February 2, 2014, at the Park Avenue Armory in New York City.
In celebration of its 60th anniversary, the Winter Antiques Show is also featuring a special exhibition of extraordinary jewels–including Queen Victoria's diamond and sapphire tiara, circa 1840, exhibited for the first time outside of the United Kingdom. The exhibition will also feature important jewels from Tiffany & Co., Chanel, Graff, and Bulgari.
From Artfix Daily:
Graff Diamonds is exhibiting a stunning 43.09-carat cushion cut diamond ring on a round diamond pave split-shank expertly hand finished by Graff's master craftsmen as well as a one-of-a-kind multi-shape diamond leaf motif necklace with beautifully contrasting multi-shape sapphires from the Scroll collection.
Chanel is exhibiting white gold and diamond jewels from The Ruban Mademoiselle Collection.
Tiffany & Co. is exhibiting a Diamond Stars and Moons necklace in platinum by Jean Schlumberger® for Tiffany & Co.
Bulgari is exhibiting a double-festoon necklace in platinum with diamonds (total weight 137 carats), circa1930 and platinum, emerald and diamond pendent ear clips, circa 1964.
Daily show admission is $25. All net proceeds from the show benefit the East Side House Settlement, a non-profit organization that works to provide access to quality education and training to residents in the South Bronx and surrounding communities.
Winter Antiques Show: January 24-February 2, 2014
Show Location: Park Avenue Armory, 67th Street and Park Avenue, New York City.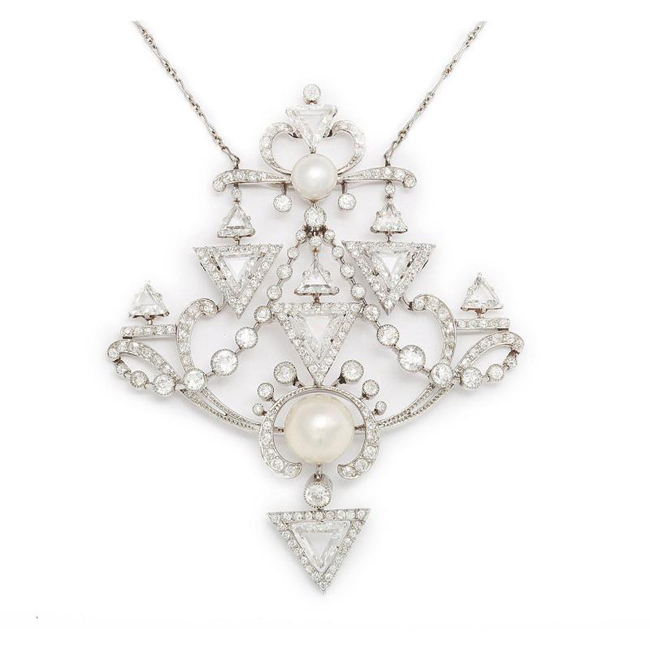 A diamond and natural pearl pendant set in platnum by Templier, circa 1901, at A La Vieille Russie at the Winter Antiques Show
More Jewelry Exhibitions:
"Cartier: Style and History" Exhibition Opens in Paris • Video

Go: Jewels by JAR at the Metropolitan Museum of Art


Visit The Museum of London to See The Cheapside Hoard: London's Lost Jewels