By
Erika Winters
Friday, February 7th, is National Wear Red Day, so please break out your red clothing and red gemstone jewelry to help raise awareness for women's heart disease. Since 2003, the American Heart Association has worked to bring attention to this disease with its National Wear Red Day campaign.
From Go Red for Women:
Since the first National Wear Red Day in 2003, we've made tremendous strides in the fight against heart disease in women. Through research and education to healthy lifestyle changes, we're proud that:
1. 34% fewer women now die from heart disease, saving 330 lives every day.
2. More women are taking ownership of their health by developing healthy lifestyles:
• 37% are losing weight
• 43% are checking their cholesterol
• more than 50% exercise more
• 60% have improved their diets
• 33% have developed heart health plans with their doctor.
3. Awareness is up. 23% more Americans now realize heart disease is the #1 killer of women.
4. Awareness among minorities is up, doubling among Hispanic women and tripling among African American women.
5. 15% have quit smoking, and high cholesterol has declined by 18%
6. More communities have joined the fight. Registration in Go Red For Women is now more than 1.75 million. More than 25 million Red Dress Pins have been worn to support the cause. More than 185 cities host GRFW events and luncheons. And more than 2,000 landmarks light up in red on National Wear Red Day.
7. Legislative efforts are making a difference. Women no longer pay higher premiums than men for health coverage. And 20 states have programs for low-income women to get screenings for heart disease and strokes through the Centers for Disease Control and Prevention's WISEWOMAN.
8. More gender-specific guidelines have been developed, because women's symptoms and responses to medication differ from men's.
9. Gender-specific medical research is up. The FDA now requires clinical trial results be reported by gender.
10. Gender-specific inequalities have been identified, ensuring women receive the same level of heart treatment as men.
Show your support for the cause by wearing red on February 7th! Visit the National Wear Red Day website to learn more about the movement.
And since we are devoted to jewels, here are three stunning new ruby rings from Omi Privé to inspire you to don your red gems! Omi Privé works with some of the world's highest quality gemstones in beautifully-crafted designs.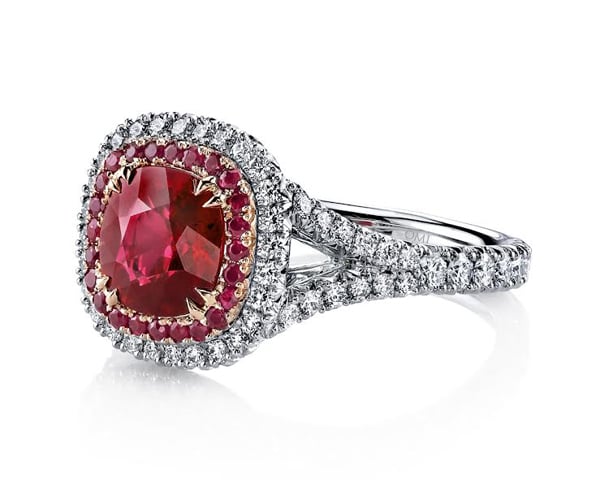 Ruby and diamond ring handcrafted with a 2.26 carat cushion ruby accented with 0.17 carats of round rubies and 0.65 carats of brilliant diamond rounds set in platinum and 18K rose gold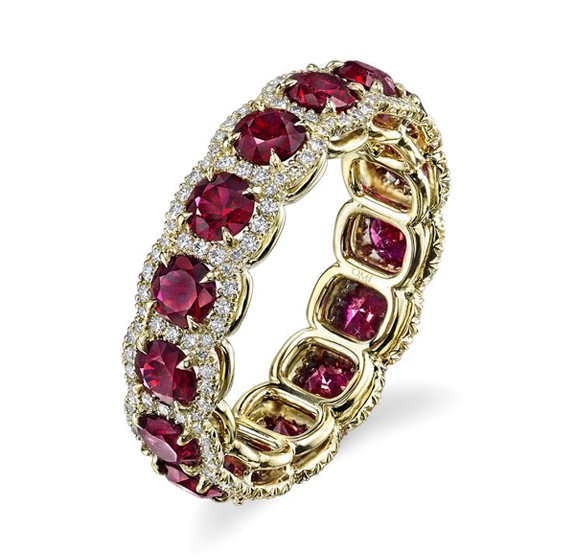 Ruby and diamond eternity wedding band handcrafted with 3.09 carats of round rubies and 0.53 carats of brilliant diamond rounds set in 18K yellow gold.
Ruby and diamond 3-stone ring handcrafted with a 1.25 carat round ruby center stone accented with 0.97 carats of round rubies and 0.59 carats of brilliant diamond rounds set in platinum.
Related forum and blog topics:
Valentine's Day Jewelry Gift Ideas: Petite Hearts for Your Sweetheart