By
Erika Winters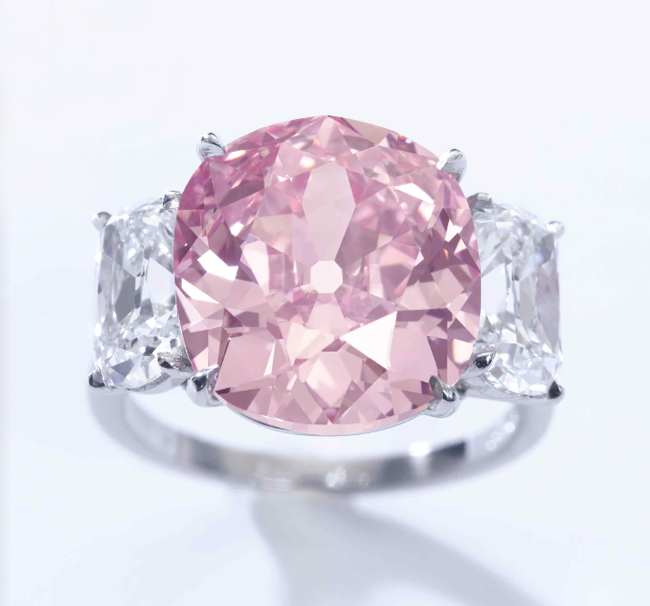 The Historic Pink Diamond • 8.72-carat fancy vivid pink diamond • Estimate: $14-$18 million • Sotheby's Geneva
On May 12, 2015, Sotheby's Geneva will auction historic diamond jewels, rare colored gemstones, and signed works from renowned jewelry houses and designers.
Leading the sale is an 8.72-carat fancy vivid pink diamond that is believed to have appeared at an auction of Princess Mathilde Bonaparte's (niece of Napoleon I) jewels in Paris in 1904. At the 1904 auction, the diamond was sold to Dreicer & Co., which mounted the stone and sold it to U.S. politician and industrialist William A. Clark. The jewel, later inherited by Clark's daughter Huguette M. Clark, was kept in a bank vault until it emerged at auction in 2012. The rare pink originally weighed 9 carats but was recut to 8.72 carats, which improved the diamond's clarity and color, according to Sotheby's.
Also highlighting the auction is the rare "Sunrise Ruby," a 25.59-carat unheated Burmese ruby set in a ring by Cartier and a 190.77-carat diamond necklace also by Cartier.
"I have remained in awe of the Sunrise Ruby since the first moment I set eyes on it. In more than 40 years, I cannot recall ever having seen another Burmese ruby of this exceptional size possessing such outstanding colour," said Sotheby's International Jewelry Division chairman David Bennett. "We are also very excited to be offering a world-class fancy vivid pink diamond, dubbed the 'Historic Pink Diamond' by the GIA, along with a remarkable wealth of signed pieces, including a private collection of extraordinary jewels by Cartier."
Visit Sotheby's to see more from its upcoming Magnificent Jewels and Noble Jewels auction.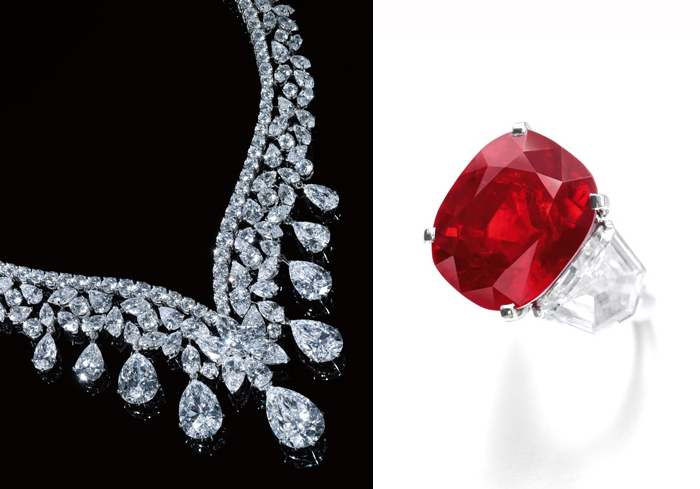 Left: 190-carat Cartier diamond necklace • Estimate $6-$10 million – Right: The Sunrise Ruby, 25.59-carat Burmese ruby in ring by Cartier • Estimate $12-$18 million
Related:
9 Carat Pink Diamond Sells for Record Price of $15.7 Million
100-Carat 'Perfect' Diamond to be Auctioned at Sotheby's New York