By
Erika Winters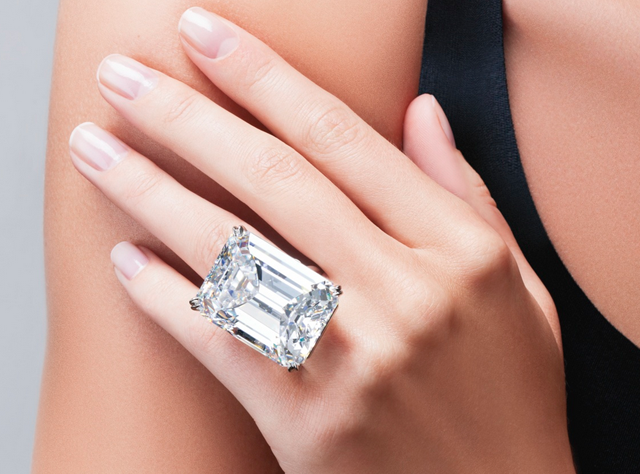 A 100.20-carat diamond fetched $22 million at Sotheby's New York on April 21, 2015.
Sotheby's New York Magnificent Jewels auction garnered $65.1 million on April 21, 2015. An ultra-rare 100.20-carat diamond led the sale, fetching $22.1 million.
Dubbed the "Perfect Diamond," the emerald-cut diamond is D color with internally flawless clarity. The diamond is also classified as Type IIa by the Gemological Institute of America. Type IIa diamonds are known for their chemical purity and exceptional transparency.
The 100.20-carat diamond is now ranked as the largest "perfect" emerald-cut diamond ever sold at auction. The rare diamond also fetched the highest price for any colorless diamond auctioned in New York, according to Sotheby's.
"This diamond is exceptional in every sense of the word, and we were thrilled to see it achieve such a strong result," said Sotheby's international jewelry division chairman for North and South America Lisa Hubbard. "The stone captivated people around the world throughout our extensive travels this spring, but it was a particular privilege to offer it at our New York headquarters. Including today's result, only six perfect diamonds weighing over 100 carats have sold at auction in the last 25 years – a testament to the incredible rarity of these stones. Sotheby's sold five of those spectacular diamonds, including sales in Geneva, Hong Kong, and now New York."
Visit Sotheby's to view all results from the New York Magnificent Jewels auction.
Related:
100-Carat 'Perfect' Diamond to be Auctioned at Sotheby's New York