Cokitty originally posted this incredible sapphire and diamond three stone ring on the Show Me the Bling Forum at PriceScope! Madame Blueberry is such a great name, I think I said it out loud twenty times with varying ultra posh accents. This ring lives up to the name, it is stunning and that blue is out of this world!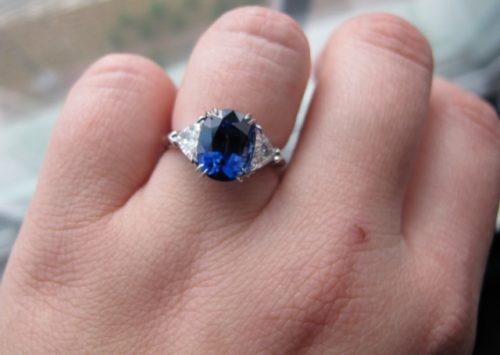 Cokitty had two rings created by Steven Kirsch in a flash, he had both rings completely done and out the door in four weeks, that's incredible. Cokitty told SK that ring with an asprey shank, comfort fit rounding and trillion sides, when she sent her sapphire in, and he nailed it! This delicious blueberry is absolutely TDF!
The Stats:
The center stone is a 4.11 oval sapphire from AJS GEMS. 9.7×7.5×6.1mm.
The trillion diamond side stones were chosen by Steven and are .74tcw F/VS1
It is such a joy to peruse through the jewelry victories of PS members in years past, no one appreciates eye candy like PriceScopers and I am here for it! Congratulations on Madame Blueberry, I hope that she has brought you a lot of happiness over the years!
Go see the post with more pics and help me congratulate Cokitty on this fabulous sapphire ring!
On Throwback Thursdays, we celebrate beautiful pieces that have been shared over the years!
Thank you so much for sharing your jewelry experiences with us. Keep revisiting PriceScope's past with us each Thursday!
#TBT
Come show off YOUR fantastic bling with fellow jewelry lovers and trade professionals
Learn more about Colored Gemstones on PriceScope