JPie originally posted this delicious mint tourmaline ring on the Show Me the Bling forum at PriceScope. Oh here comes the spring, things are going to soon be green all over, JPie just got a head start with this decadent tourmaline. I have been fixating on color lately because the grey outside was just so overbearing, but the color and wonder at PriceScope was bringing me back to joy.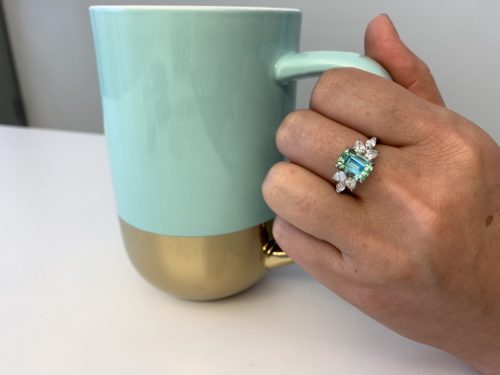 JPie bought the Afghan Mint Tourmaline from Jeff White and had it expertly set in platinum by David Klass. Those diamonds are pears and marquise diamonds are the perfect accents to this mint tourmaline and really let the color stand out.  Green tourmaline is said to have healing properties and amplify happiness and a joy for life. I can certainly see this ring amplifying happiness, I know it made me happy just to look at it!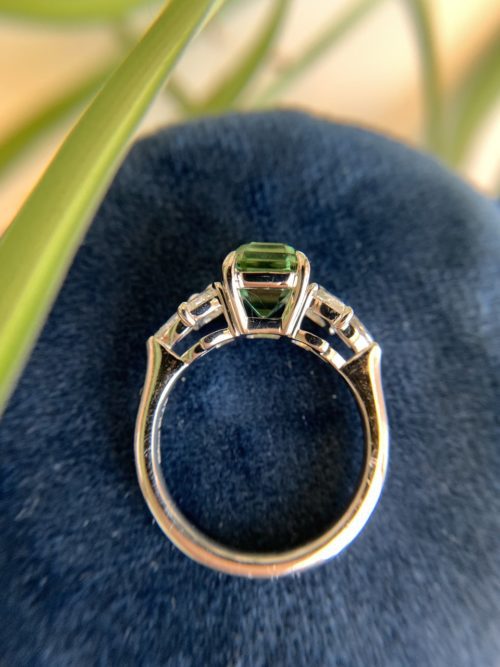 The Stats:
Platinum, 7.1 grams, set with .81cts of G color, VS clarity pear shape and marquise diamonds, size 6.5.
The untreated tourmaline is 2.99 ct and measures 9.39 x 6.74.
Kudos on another incredible creation, JPie!
Go see the post with more pics, and join me in congratulating JPie on JOTW!
The Jewel of the Week is our chance to feature and appreciate a recently posted piece from the Show Me the Bling Community!
Thank you so much for sharing your jewelry experiences with us. We look forward to seeing more!
#JOTW
Come show off YOUR fantastic bling with fellow jewelry lovers and trade professionals
Learn more about Colored Gemstones on PriceScope