Round diamond retail prices have been generally dropping for the last 2 years specifically hitting sizes below 1 carat.  With the current pandemic, diamond prices went down even lower in the last weeks of March. The above-featured image shows how diamond prices have changed in the first quarter of 2020.  Melee sizes being hit the hardest.
Below is a chart of retail diamond prices for the last 2 years.  The chart shows diamond prices are the lowest in a long time.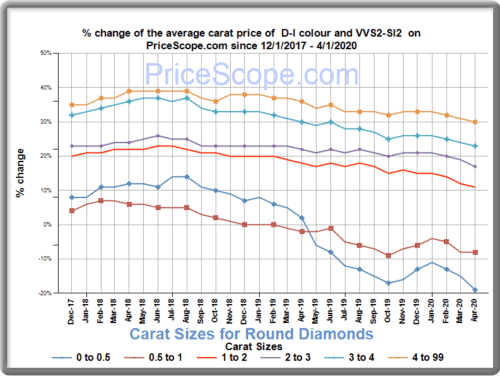 Due to many shops closure, the supply and workmanship slow process. The uncertainty of everything has also lowered demand.  It is still unknown how things will change as everything will come to some sort of normality in the near future.
Diamond Price Changes from 3/1/2020 to 4/1/2020 (corrected for months 6/22/2020)
Diamond Carat Sizes
3/1/2020
4/1/2020
0.0 – 0.5
-2 % ↓
-2 % ↓
0.5 – 1.0
-1 % ↓
-3 % ↓
1.0 – 2.0
-1 % ↓
-2 % ↓
2.0 – 3.0
-1 % ↓
-1 % ↓
3.0 – 4.0
-1 % ↓
-1 % ↓
4.0 – 99
-1 % ↓
-1 % ↓
PriceScope has been collecting retail diamond prices since 2007 of over 500,000 diamonds. PriceScope diamond price chart page shows the full diamond price charts for rounds and other fancy shapes. We update the diamond prices on a monthly basis.
The current average diamond price per carat for a round diamond of 1 – 1.4 carat G color VS1 clarity is $7,542.  The current average and lowest prices per carat prices are shown in  PriceScope's diamond prices charts by carat and their corresponding color and clarity.
Here is a link for your convenience:  https://www.pricescope.com/diamond-prices/round
Keep in mind that cut quality and vendor services can make a difference in the price point when shopping.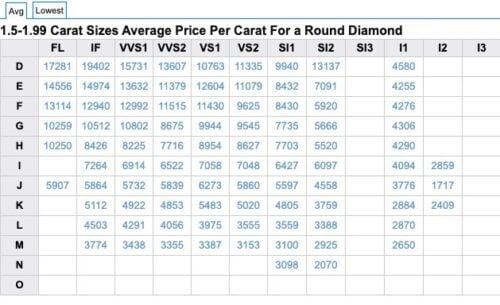 RELATED FORUM DISCUSSIONS
New Online Diamond Exchange as an alternative to RapNet Platform
I read this article today and was asking myself what it means for the trade as well as consumers.
Would any trade members provide some insight on this?
How is Coronavirus impacting the jewellery and diamond trade?
I'm curious as to whether any PS members have noticed any impact on the jewellery/ diamond business yet as a result of Coronavirus. Not necessarily from the health aspect, but from the economic impact.
DIAMOND PRICES IN THE NEWS
Rapaport:
Diamond Prices Slide in March as COVID-19 Spreads
Diamond prices fell in March as the spreading coronavirus led to a dramatic decline in the global economy. Diamond markets are under pressure and facing a severe liquidity crisis as jewelry retail, diamond manufacturing and trading shut down.
IDEX:
Polished Diamond Price Index Slides 1.6 per cent during March
The IDEX Polished Diamond Price Index slid 1.6% in March as coronavirus effectively brought trading to a standstill. The previous month had seen an overall drop of 1.27%, also impacted by Covid-19.
Polished Prices:
Diamond markets close due to Corona virus
Given the impact of the Corona virus on business activity we have decided to stop updating the index and publishing the weekly index report until there is significant increase in trading activity. 
JCK Online:
Rapaport Suspends Price List Amid New Furor
Steep diamond price drops on the March 20 Rapaport Price List have caused widespread anger in the trade—leading publisher Martin Rapaport (pictured) to suspend the list's publication until May.
Edahn Golan – Diamond Research and data:
The Golan Diamond Market Report – Q1 2020
Although sales were almost nonexistent, polished diamond prices remained stable. This is not surprising considering that the diamond industry is very small and tends to protect itself from price fluctuations.
Forbes:
Diamond Crash. Just Don't Ask How Bad It Is.
How low can diamond prices go?
That's a question which no-one can answer, but it's also a question which the diamond industry wishes no-one would ask, judging by an unsightly spat which has engulfed the normally well-mannered jewelry trade.
Wall Street Journal:
Diamond Business Loses Luster as Coronavirus Crisis Spreads
The diamond industry faces a reckoning, with mines and processing centers closed due to the coronavirus pandemic and demand threatened by a looming global recession.
What are your thoughts?