By Erika W.
At today's Plenary Session in Vicenza, Italy, World Diamond Council members agreed that the Kimberley Process Certification Scheme should evolve and expressed support for discussions to widen the definition of "conflict diamonds" in the Core Documents of the KPCS. The current definition covers rough diamonds that are sold to fund civil conflict. The proposed description would also cover "diamond-related violence in rough diamond producing and trading areas."
WDC's decision to discuss the modification came after Kimberley Process Chair, Gillian Milovanovic, addressed the Plenary Session and suggested the conflict diamond description change to cover "rough diamonds used to finance, or otherwise directly related to armed conflict or other situations of violence."
"The WDC was established to articulate our refusal to allow the product, to which we have dedicated our careers, be used as an agent of suffering and oppression. Under no circumstances should the diamond be associated with collective violence against communities," said Eli Izhakoff, President of the World Diamond Council.
Visit Rapaport News to read the full WDC press release.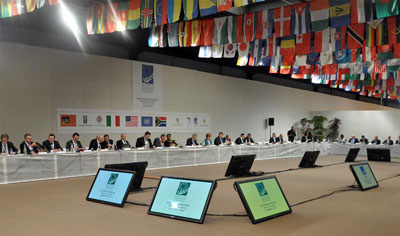 The Plenary Session of the 8th World Diamond Council
Related Topics:
Kimberley Process Meeting Updates from Kinshasa DRC

The Kimberley Process and the Chinese – New Article