By
Erika Winters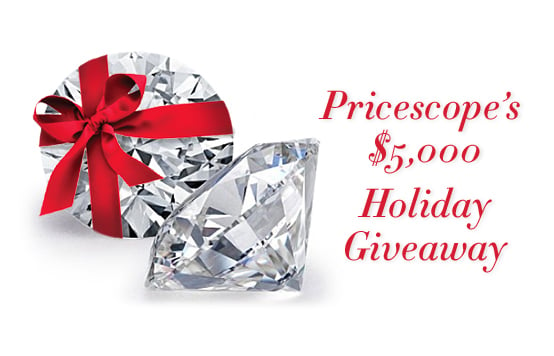 Thinking of a special sparkling jewelry piece on your holiday wishlist? Well Pricescope's team of elves is gearing up for the holidays, and we want to celebrate with you! So we are giving away FIVE $1,000 gift certificates to be spent with any Pricescope Featured Sponsor.
How do you enter the giveaway? It's really simple: all you have to do is post on our forum!
Pricescope currently has approximately 3,779,050 individual posts on the forum. And we are giving away gift certificates to our registered members who submit the following posts from Pricescope's total post count:
#3,780,000 • #3,785,000 • #3,790,000 • #3,795,000 • #3,800,000
To follow our current post count, go to the forum main page and scroll to the bottom. As of today, we have over 3,779,050 million forum posts, so we are *very* close to the first prize!
Our lively forum community is what makes Pricescope an outstanding destination for diamond and jewelry education. We thank you all for hanging out with us and for helping your fellow forum members. And as always, we appreciate you sharing your gorgeous jewelry pictures with us!
We wish you a very happy holiday season! Keep on posting for a chance to win one of FIVE $1,000 gift certificates!
Visit the 2014 Pricescope $5,000 Holiday Giveaway forum thread for additional details, rules, and to chat about the contest!