By PS Staff
Pippa Middleton, famous sister of the most famous royal, the Duchess of Cambridge, is now planning a wedding of her own. Her fiancé, hedge fund manager James Matthews, proposed on July 17 in the Lake District. However, the love birds kept their engagement secret for a day before confirming their official coupledom. The Middleton-Matthews wedding will be held in 2017 in what will be an undeniably lavish affair. Might we propose Prince George and Princess Charlotte as members of the wedding party?.
We are excited for their wedding to be upon us for one big reason; Pippa has more freedom than her sister to choose what kind of wedding and reception she wants to have. When Miss Catherine Middleton was preparing to meet her prince, her fashion and ceremony were dictated by what the palace deemed suitable, royal bridal trends and what the public wanted to see for the future wife of the world's most eligible prince.
Well, Miss Pippa Middleton will be able to have her dream wedding with few constraints on the ceremony and bridal fashion. Since this is sure to be a lavish affair, do you think her sister will let her borrow one of her tiaras for the wedding?
The Engagement Ring
If the ring is any indication of a bright future, then the future Mrs. Matthews has a very bright one indeed. Her fiancé selected a ring which is sure to spark another trend. The center diamond is a minimum three carat Asscher ring surrounded by an octagonal halo with round brilliant diamonds in a bezel setting. The center stone is at least G-color but it is speculated that the center stone is a higher color as well. An Asscher stone in this setting must possess a great color; otherwise the halo would highlight the lower-quality color and ruin the look.
The Look for Less . . . 
Do you want Pippa's engagement ring without spending $300k+? Then check out the following two beauties which capture the essence of Pippa's ring without the hefty price tag.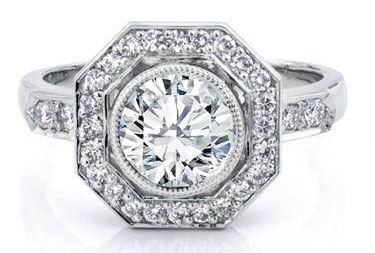 Platinum Vintage Inspired Octagon Halo Engagement Setting

at Adiamor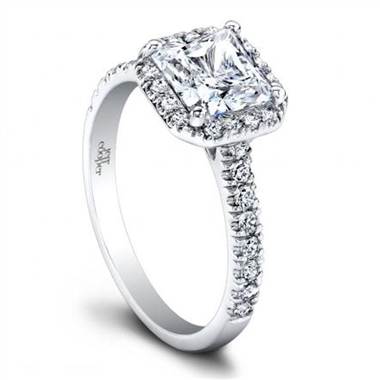 Jeff Cooper Tate Ocet Engagement Ring from Tandem Collection

at Solomon Brothers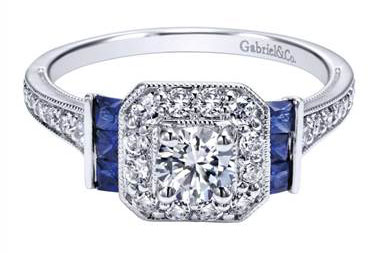 Diamond and Sapphire Halo Engagement Ring Setting

at I.D. Jewelry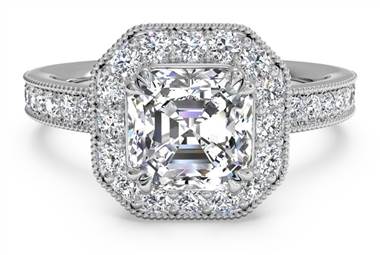 Platinum Vintage Halo Diamond Engagement Ring

at Ritani
PriceScopers, mark your calendars for 2017's big society wedding event! This is a wedding which can't be missed. Her ring has society firmly checking their mailboxes for what is sure to be an invitation one can't afford to miss. Congratulations to them both!
Look for your inspiration here (Resources >> Jewelry Search) for your engagement ring or here for more octagonal halo engagement rings.