Acinom originally posted her enchanting Paraiba tourmaline ring on the Show Me the Bling forum at PriceScope.  Taking inspiration from the Caribbean Sea, Acinom set out to create a ring that would transport her to the crystalline waves at a glance, and I'd say she achieved that and more!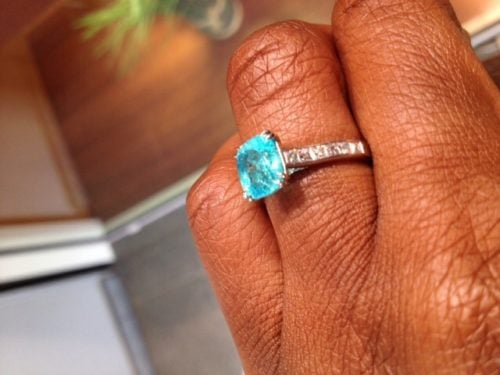 I love this ring! I am completely fascinated by the oceans and the colors of the life in the depths. This Paraiba tourmaline evokes a salty air and the din of the crashing waves. The blue/green hue lights up the room, it sparkles so fiercely. It's amazing that the color looks so different in different lighting. This is a marvelous piece and it did my heart good to revisit it!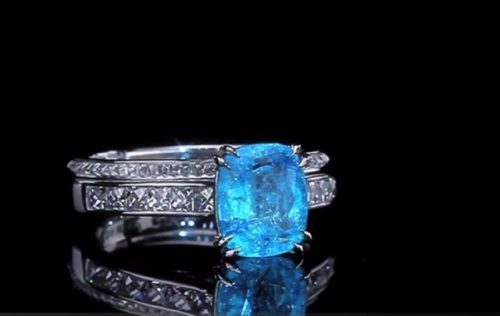 The Stats:
 The Center Stone:

– Paraiba from Paraiba, Brazil (according to GIA), sourced by Perry
– 2.07 ct
– 8.32 X 6.99 x 4.70 mm
-cushion
– cutting style crown: brilliant cut
– cutting style pavilion: modified brilliant cut
– color: greenish blue
The stone is heated
The Setting:
– 95% platinum, 5% ruthenium, designed by Leon Mege, made by his bench
– Inspired by Missydebby's ring, but mine has a CS in the center and no milgrain.
– 12 high dome french cut diamonds on the sides, 0.6 ctw
– beautifully low set (I love Leon's aesthetic eye), but not low as a pancake
– delicate double claw prongs
– shank width: about 2.6 – 2.7 mm
Visit the original post with more pics and join me in congratulating Acinom!
On Throwback Thursdays, we celebrate beautiful pieces that have been shared over the years!
Thank you so much for sharing your jewelry experiences with us. Keep revisiting PriceScope's past with us each Thursday!
#TBT
Come show off YOUR fantastic bling with fellow jewelry lovers and trade professionals
Learn more about buying colored stones from PriceScope