Elizat posted her new art deco old mine cut diamond ring on the Show Me the Bling forum at PriceScope.  This is opalescent prettiness at it's best, and yes I played along with the o-p theme! Of the old cuts, which kind is your favorite?
The colors that are dancing through the facets of this stone are mesmerizing. I absolutely love it, and I expect that I will not be alone. I know that there are many of us that are on The Modern Quest for Old Cut Diamonds.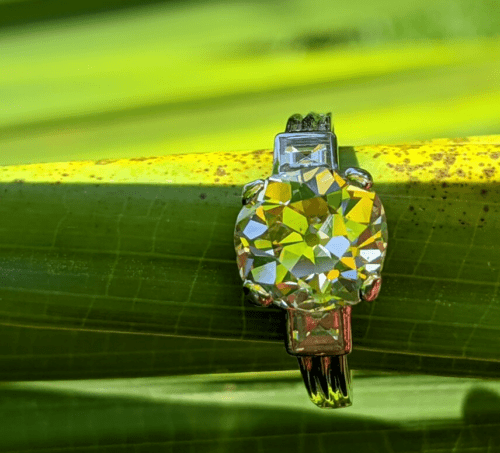 GIA says: "From the early 18th century to the late 19th century, the old mine cut was perhaps the most common diamond cut and the cut you'll most often find in Georgian (1714-1837) and Victorian era (1837-1901) jewelry. You can recognize an old mine cut diamond by its squarish shape: it has 58 facets like today's modern round brilliant cut diamond, but that's where the similarity ends. In addition to a different shape, an old mine cut has different diamond proportions: it typically has a smaller table, larger culet and higher crown. It also has short lower half facets and a girdle that is very thin in places and, because of these factors, an old mine cut diamond has a very distinctive look."
This is stunning, I can't get over that it is an o-p but I love that you are having fun with that too. Congratulations on this magnificent ring, I hope you enjoy it for many years to come! I love the symbology of your Bunker Stone. 🙂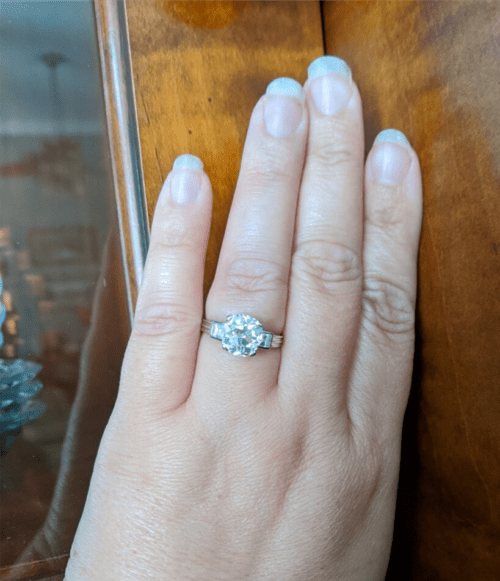 The Stats:
GIA graded old mine cut from Sako at Cicada Jewelry
3.09 ct. center
Color:  o-p
Clarity: VS2
in an art deco platinum setting with carre cuts.
Visit the original post, see more pics, and join me in congratulating Elizat! Of the old cuts, which kind is your favorite? Let us know in the forum at PriceScope!
The Jewels of the Week is our chance to feature and appreciate a recently posted piece from the Show Me the Bling Community!
Thank you so much for sharing your jewelry experiences with us. We look forward to seeing more!
#JOTW
Come show off YOUR fantastic bling with fellow jewelry lovers and trade professionals
Learn more about Ideal-Scopes on PriceScope!