Yessssssss! November is finally here. Besides reveling in the midst of Scorpio season, we are celebrating this month's gemstones of choice, citrine and topaz.
This November baby grew up confusing citrine and topaz for most of my life because they look so similar. Granted, topaz comes in different colors, but the birthstone color of choice is the rich burnished gold. Needles to say, both stones continue to be mistaken for one another.
That said, you're one lucky person if this is your birthstone because both gemstones are said to bring the wearer fortune and tranquility; something November babies can never have too much of!
Citrine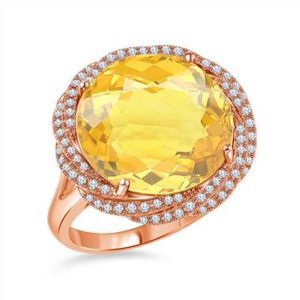 Citrine is a type of quartz with hues varying from a faint yellow to a rich brown. The stone is mined in several countries throughout the world, including the United States, Madagascar, France, Spain, Bolivia and Russia. However, Brazil is the world's largest source of citrine. Another reason to add this stone to your collection is that it is a 7 on the Mohs scale, so you know the stone is resilient enough to handle daily wear and tear and still look amazing at a black tie benefit.
Topaz
Even though topaz and citrine are constantly confused, it is only the yellow version of topaz which suffers from that incorrect designation. That's because topaz comes in an assortment of colors, but November's birthstone is reserved for the sunny, yellow topaz. Much like citrine, Brazil provides most of the world's topaz and is found in Russia, the United States, Australia, Nigeria, Germany, Sri Lanka, Pakistan and India. Topaz is also another strong stone, measuring at 8 on the Mohs scale. Not surprising since November babies are some of the strongest people I know!
Topaz and citrine were selected as November's two birthstones because of their similarities, both in appearance and in hardness. However, the similarities stop there. One thing they do have in common is that they are both fairly inexpensive making it easy for one to own a serious birthstone haul. We think that is truly a small price to pay for tranquility and fortune!

By PS Staff