The best marriage proposal ideas
The marriage proposal becomes a central part of your love and your life stories. You want to get it right for more reasons than the, hopefully enthusiastic, "Yes!" So, get the engagement ring ready and take some inspiration from our selection of the best marriage proposal ideas.
Before we dive into proposal ideas, let's address a conundrum that many face, in many different proposal scenarios: 'Should I propose before or after dinner?' No matter what proposal plans you devise, dinner is likely to feature, and this is a question that causes much angst!
Should I propose before or after dinner?
There are arguments for and against proposing before and after dinner. Propose before and celebrate with dinner. Propose after and immerse yourself in the moment of romance, without letting your meal go to waste. The general consensus is that it is best to propose during or after your meal. This allows nerves to be calmed, the romance to build, and a quick exit to either privacy or celebration.
The question 'Should I propose before or after dinner?' is asked on our forum. Forum user Queenie60 gives another good reason why after dinner is best. They say: "If you do it before or during dinner, don't plan on eating too much!!" Imagine the frustration of planning a special dinner just for the meal itself to become superfluous!
So, enjoy your meal and let the conversation lead you towards connection, before making the proposal either before or during dessert, or after the meal altogether. We'll kick off our list of marriage proposal ideas with thoughts on how to make a dinner proposal go without a hitch.
1.     The dinner date proposal
Perhaps the most popular marriage proposal idea is to propose over dinner. We've already established that you should aim for before dessert or after the meal to make the proposal.
Choose a favorite restaurant, or somewhere decadent fitting for the occasion. Make the restaurant aware of your plans and you can be sure of help and special touches.
If you'd like to propose before or during dessert, make sure the restaurant know how you hope things to work in practice. If they are bringing the ring with dessert, make sure it won't be eaten by accident! Broken teeth are not a good start, and it's not the best way to show off the dazzling engagement ring!
Alternatively, like the questioner in our forum post, why not wander outside for sunset and make the proposal in the grounds?
2.     The city landmark proposal
From the Statue of Liberty in New York to the Golden Gate Bridge in San Francisco, and a multitude of places in between, the USA is awash with fantastic city landmarks. These make an ideal backdrop to a proposal. Getting down on one knee in front of a significant city landmark will not just make for an impressive proposal, but also an impressive set of photos too.
3.     The vacation proposal
Book a special trip or weekend away and weave the proposal into your itinerary. Choose somewhere special to you and your relationship, or perhaps this is a chance to tick off an item from the bucket list?!
Be sure to transport the engagement ring carefully in your hand luggage, remembering that you may need to be searched without revealing your secret!
4.     The aquarium proposal
There are around 50 superb aquariums in the United States! There's something magical about an underwater dappled light proposal. The ring will become mesmerizing in the shimmering aquatic light and the silhouettes of people against glowing tanks can certainly make you feel you've got privacy. Many aquariums, such as this one in Mystic CT, will even help you with your special arrangements.
5.     The recreated first date proposal
What could be more romantic than going back to where it all began? Revisit the place you first met, or recreate the first dinner date you had together. Make sure you've got the engagement ring ready, and have considered all the details from your future-fiancée's point of view!
6.     The theater or concert proposal
Make plans for a special date with a planned trip to the theater or to a concert. What's wonderful about these marriage proposals is that throughout your marriage together that play, or music, will hold a special memory for you. Don't forget to book dinner for after the show!
7.     The at-home proposal
The world is your oyster when you opt for an at-home proposal. From a strewn rose petal pathway to a candlelit dinner outside, to something imaginative and significant to you, your home may be the perfect setting. You'll certainly be guaranteed privacy, and you'll have complete control over the plans.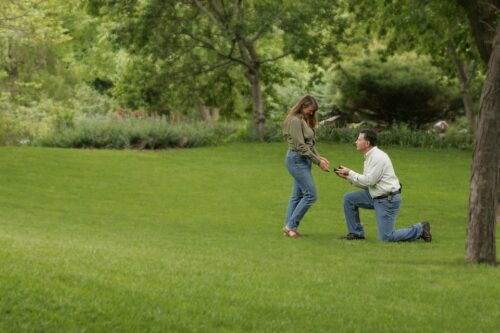 8.     The treasure hunt proposal
We love the cheeky romance of a treasure hunt proposal. It will take a bit of planning, but create a series of clues leading to the final treasure trove: the engagement ring. The hunt will build the suspense and you can include clues that refer to your relationship, such as ('Find the next clue in the recipe book we first cooked from together').
9.     The theme park proposal
With some of the most iconic theme parks in the world, we are spoilt for choice when it comes to theme park proposals. Whether you're Disney fanatics and want the Disney fairytale castle moment, or are thrill seekers who love Six Flags, you'll find the perfect proposal destination. Just be sure not to lose the ring from a pocket on a looping rollercoaster!
10.   The hot air balloon proposal
Take to the skies, and watch the sunrise, and propose in an incredible setting on a hot air balloon ride. You'll find plenty of special packages which likely include Champagne, and the tour operator will be able to take photos for you. Choose somewhere iconic like the Grand Canyon, or somewhere closer to home.
11.   The kids-in-the-act proposal
If one or both of you already have children, then getting them involved in the proposal is a fantastic way of uniting you all. Dress up little kids with t-shirts asking one parent to marry the other, or have them play their part in a different way. They'll always thank you for being included and involved.
12.  The musical proposal
If music matters to your other half then you'll want to incorporate it into your proposal plans. Organize a flash mob if you're up for big crowds, or maybe a string quartet, your favorite local band, or even be personally serenaded. Make sure you know when you'll pop the question, and make sure you're got the engagement ring safely to hand.
13.  The friends and family proposal
This one involves a judgment call, but if you think your partner will appreciate it then make your proposal a celebratory affair with loved ones. Choose an event where everyone will be, perhaps a significant birthday, and get everyone in on the act.
14.  The spontaneous proposal
Sometimes, all you need to do is have the ring ready and wait for the right moment. The spontaneous proposal is fantastic for taking an opportunity when it comes and it just feels right. That way you can be sure that the best laid plans won't be ruined by unintentional bad moods, things not going right, or something not working the way you expect.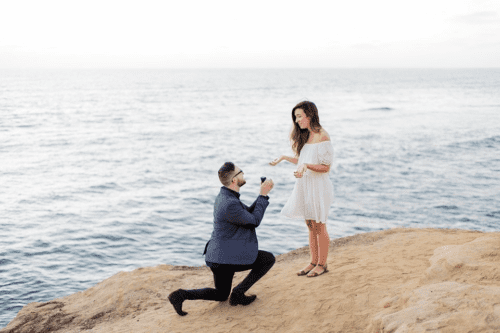 15.  The out-in-nature proposal
Outdoorsy couples will want to make sure that The Great Outdoors feature in their proposal plans; whether that's under the stars while camping, or at the top of a mountain peak, or over a picnic by a bubbling stream. Pick a spot that's perfect for you, on a day with good weather, and don't forget to take the ring!
More marriage proposal ideas
Of course, marriage proposals are as unique as your relationship! Find further inspiration on our Proposal Ideas board, or ask your own questions about your proposal plan in our Proposals, Weddings and More area. The forum is also a great place to go, before you make the proposal plans, to get advice and ideas on the all-important engagement ring purchase.
What is your favorite idea? Let us know on the forums at PriceScope!

By PS Staff