Boston_jeff originally posted absolutely stunning Leon Mege solitaire engagement ring on the Show Me the Bling forum at PriceScope.  Stop what you are doing and take a look at this beauty, this engagement post includes pics of the romantic getaway cabin where the question was popped! #swoon What is your dream engagement scene?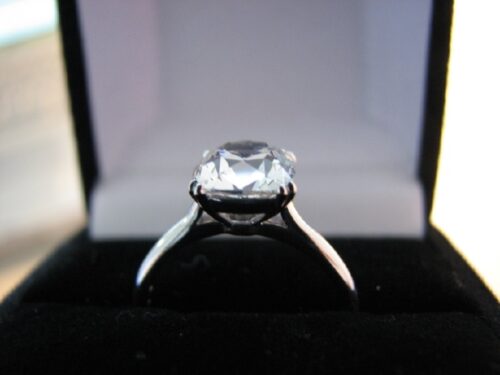 I love this whole post, the ring, the cabin, the romance; it is all magnificent! The gorgeous cabin among the trees and the separate star viewing cabin!? To top it all off, a proposal with this sensational solitaire! The wedding was slated for September 2008, we hope that it led to a glorious marriage with lots of joy, health, and bling!
Leon Mege is a master of his craft, as we all know. This ring bounces stunning light and color, may it be worn for a lifetime of happiness! Leaning on the PriceScope community to do your engagement ring shopping is a great idea! PS is not only a friendly and supportive community, but knowledgeable and helpful!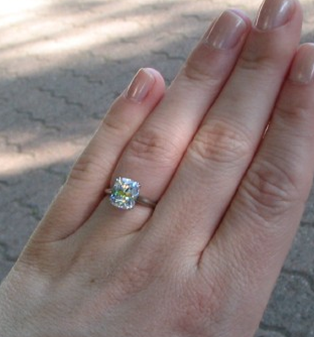 The Stats:
2.20 ct Old Mine Cushion Brilliant
Color: H
Clarity: VS2
(8.23 x 7.47 x 5.01) [L/W=1.10]
Pol/Sym: G/VG
67.1% depth
53% table
slightly large culet
SB flour(!!!)
girdle: medium to thick, faceted

Visit the original post with more pics and join me in congratulating boston_jeff!  What is your dream engagement scene?
On Throwback Thursdays, we celebrate beautiful pieces that have been shared over the years!
Thank you so much for sharing your jewelry experiences with us. Keep revisiting PriceScope's past with us each Thursday!
#TBT
Come show off YOUR fantastic bling with fellow jewelry lovers and trade professionals
Learn more about what diamond to buy from PriceScope