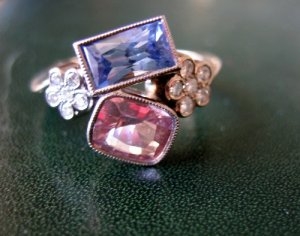 Sapphire and Diamond Mothers Ring
Mariedtiger shared her lovely and meaningful Mother's Ring with us on the Show Me The Bling Community at PriceScope.com. Celebrating family is wonderful, but not all mother's rings are equally beautiful. I love how colorful this is and that the shapes contrast to create a unique look.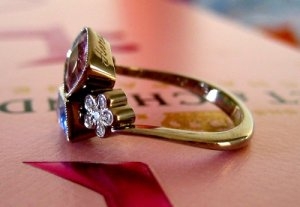 Beautiful, delicate curve
The sapphires have her two children's names and birth dates engraved in the setting. The diamond flowers represent marieddtiger and her husband. I love that the whole family is honored in this piece. The Sapphires were purchased from The Natural Sapphire Company and the setting is by Annette Tillander
The Stats:
Unheated pink cushion cut sapphire is .89 ctw
Unheated blue princess cut sapphire is .97 ctw
The flowers are made of small diamonds
Want to see the entire post with more pics? Follow this link!
On Throwback Thursdays, we take the opportunity to re-appreciate beautiful pieces that have been shared over the years!
Thank you so much for sharing your jewelry experiences with us. Keep revisiting PriceScope's past with us each Thursday!
#TBT
There is so much to discuss about diamonds, learn more by chatting with other diamond lovers here.
Come show off YOUR fantastic bling with fellow jewelry lovers and trade professionals in the Show Me the Bling Community here.