The London 2012 Summer Games are in full swing, and Leibish & Co. is showing its love for the Olympics with fancy-colored diamonds arranged like the symbolic rings. The intertwined five rings represent the unity of the world's five participating regions. The colors of blue, black, red, yellow, and green against a white background were chosen, because every nation has at least one of these colors in its flag.
Luckily, diamonds are found in a rainbow of colors, so what better way for diamond lovers to represent the Olympics than with FCDs!
Visit London 2012 for the Olympic Games schedule.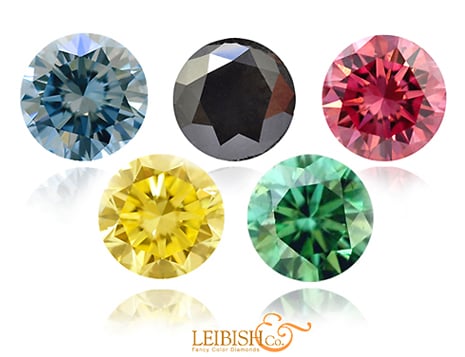 Image courtesy of Leibish & Co. Diamonds left to right: 0.65ct Fancy Intense Blue (IF), 2.70ct Fancy Black, 0.27ct Fancy Deep Purplish Pink, 2.22ct Fancy Intense Yellow, and 0.09ct Fancy Vivid Green
Related Topics:
Video: How are the London 2012 Olympic medals made?