First Lady Michelle Obama addressed the Democratic National Convention in peach moonstone and diamond earrings by jewelry designer Kimberly McDonald. The earrings, set in rose gold, complemented Obama's custom Tracy Reese dress and J.Crew pumps.
Kimberly McDonald is known for her use of natural, untreated gemstones: agates, geodes, and baroque pearls are offset by diamonds in organic designs that highlight the raw gems. The First Lady has worn the U.S. designer's earrings at other events. In 2011, she wore a pair of black geode and ruby earrings at a state dinner in honor of Chinese President, Hu Jintao.
McDonald's pieces are handmade in the United States.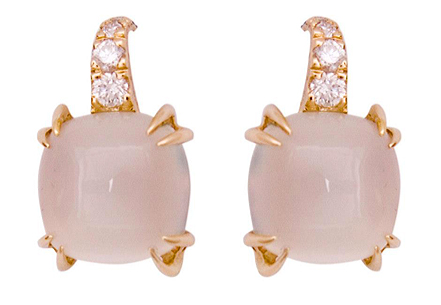 Visit Kimberly McDonald on Facebook for more images of the moonstone and diamond earrings worn by First Lady Michelle Obama.
Related Topics:
Rio Tinto Launches First Sustainable Jewelry Collection
Jewelry Designers and Collections