By Erika W.
Following the larger trend of marketing to affluent Asian consumers, Hublot's $5 million diamond watch heads to Singapore. Just a few days ago, Hublot unveiled the diamond-encrusted watch at the 2012 BaselWorld watch and jewelry show. The watch, which holds 1,282 diamonds set in 18k white gold, is the most expensive ever produced by Hublot.
So what goes into the making of a $5 million watch? According to Hublot "a completely different approach was used for its creation. Unlike a Haute Joaillerie piece, where the design and technical construction are created to 'emphasize and serve' stones which have already been selected, the opposite approach was adopted. The diamond cutters started with a design and then found the diamonds which best matched the complex construction of the case, dial and bracelet. Cutters and setters then employed all of their expertise to resize them to ensure a perfect fit."
The watch has been sold to The Hour Glass, a watch retailer in Singapore and will be displayed at the Hublot boutique in Marina Bay Sands.
Photos courtesy of Hublot.
Hublot's $5 million watch – It took over 14 months to create the watch, which is set with over 140 carats of diamonds–six of them (step-cuts) weigh over 3-carats each.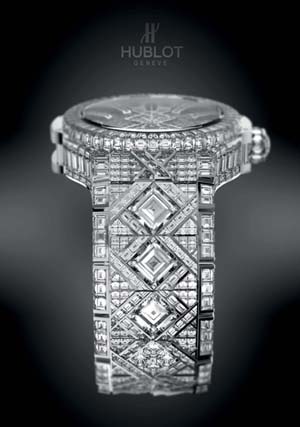 Related Topics:
Rob Bates – Yes, There Really is a "New Normal"

"Diamonds an Investor's Best Friend" – CNN Video