By
Erika Winters
The holiday season is officially ON, and to celebrate we'll be sharing a few gift guides for those who need a little inspiration! So to kick things off, we're featuring 9 designer earring looks in gorgeous gold.
It's pretty hard to miss the fact that gold's been wildly popular of late–thanks in part to a major promotional effort from the World Gold Council. And though some of us have long loved gold, we're excited to see this shimmering hue back in action…and everywhere! If you're new to gold after decades of wearing white metals, earrings provide the perfect gateway to gold's warmth. Earrings not only light up your face, but gold imparts a lovely glow on the skin.
The styles below showcase both on-trend looks and classics to wear for years to come. From linear studs that climb up the ear to delicate hoops and dainty drops, enjoy these 9 looks in gold that range from $300 to $895. Click the images or links below to learn more. Happy Holidays!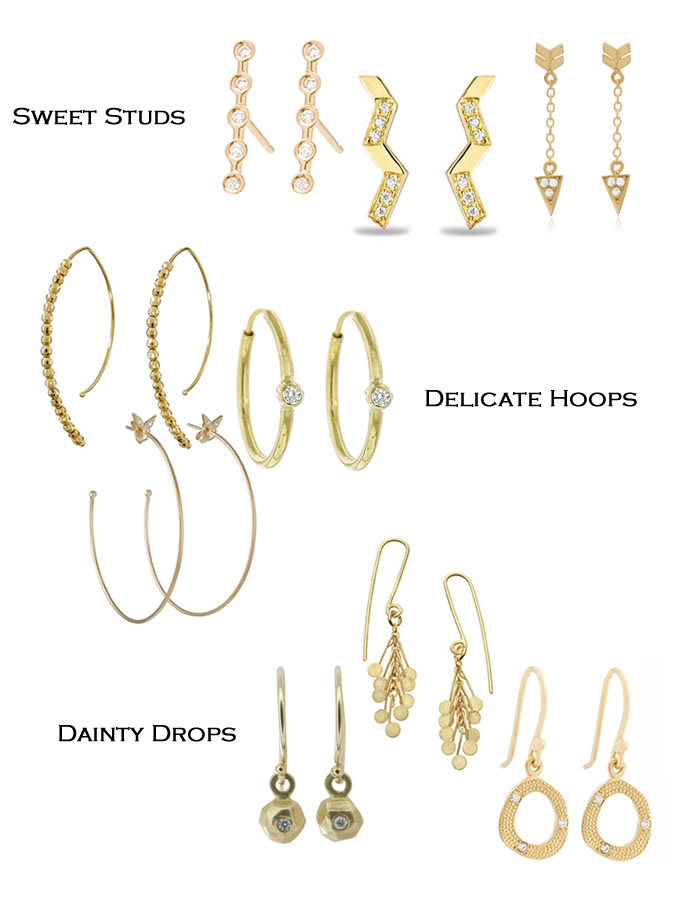 Sweet Studs (left to right) – Ariel Gordon diamond horizon earrings – $795, Kara Ross pangea diamond stud earrings – $795, Jennie Kwon diamond arrow earrings – $890
.
Delicate Hoops (clockwise) – Mizuki gold bead open marquis hoops – $374, Jennifer Meyer small diamond hoops – $300, Mizuki feather top hoop earrings – $895
Dainty Drops (left to right) – Sarah Swell mini ore dangles – $375, Sia Taylor short dot earrings – $685, Anne Sportun petite stardust hook earrings – $780
More 2014 Holiday Gift Guides:

Treat Yourself! Holiday Jewelry Gift Ideas Under $1,000 Just for YOU

5 Petite Diamond Pendants Under $500
Stocking Stuffers: Warm Your Ears with 6 Sweet Earring Jackets