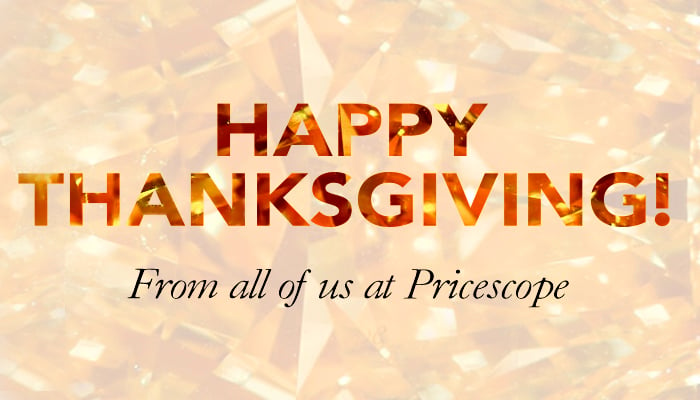 We wish you all a very Happy Thanksgiving! We are very thankful for having such a wonderful and amazing community. We are thankful for all the time and effort many put in to helping others and each other. You make PriceScope the best place for everything related to diamonds and jewelry.
For a little fun, we put together 10 reasons we are thankful for beautifully cut diamonds.
Round Brilliant Cut. We are thankful that round diamonds are the most popular shape and are capable of reflecting brilliant light.
Princess Cut. Round brilliant cuts are the most popular, but the princess cut is the most popular amongst the fancy cuts. The best part about them, their extreme versatility for almost any setting.
Emerald Cut. Love a colored diamond? Then the emerald cut will highlight your diamond's color the best of any cut.
Oval Cut. Figure flattering for any size finger, it has the added bonus of appearing larger than it really is.
Marquise Cut. Marquise cuts are FABULOUS for elongating shorter fingers in addition to having the largest surface area of any cut. Therefore, you get more bang for your carats with this cut.
Asscher Cut. Has marked similarities to the emerald cut, but with one notable bonus, the asscher cut yields more brilliance than it's emerald cut brethren.
Heart Cut. Want to wear your heart on your sleeve finger, then look no farther than the heart cut diamond. This is the shape of choice for hopeless romantics and the cut looks amazing when the stone is one carat or larger.
Pear Cut. Pear shapes are great for setting versatility and making your fingers look longer and thinner. Plus, the many facets means the cut can hide some clarity issues without compromising the ring's appearance.
Cushion Cut. One of the oldest fancy cuts on the market. However, it has recently enjoyed a heightened status again as more and more people are discovering this beauty again.
Radiant Cut. Lives up to its name. It is cut in a special way which allows it to have tons of brilliance compared to its size as well as quite a bit of sparkle. Another thing we love, it's more resilient than the other cuts, so if you live an active life, then this cut is for you!
There you have it! Ten wonderful cuts to be thankful for over the holidays. Whether you want amazing brilliance, a finger-flattering cut or one that speaks to your inner romantic, we promise you that you will adore and be grateful for whichever diamond cut resides on your finger.
Tell us about how you are thankful for your favorite cut.