By
Erika Winters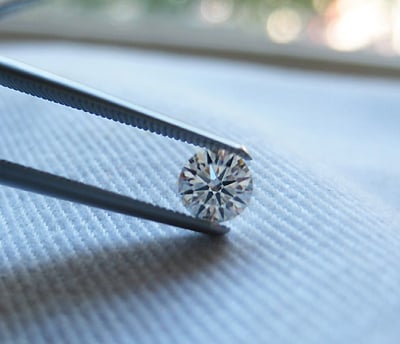 Over the last two weeks, two diamond trading networks have banned grading reports from the European Gemological Laboratories (EGL). The RapNet Diamond Trading Network will no longer list grading reports from any EGL branch effective October 1st. And as of September 17th, the Polygon diamond trading network delisted all EGL International grading reports and restricted the sale of diamonds with those reports on its buy/sell channels.
Why have the EGL reports been banned from these major trading networks?
From Rapaport:
RapNet is concerned about the misrepresentation of diamond quality by laboratories that use Gemological Institute of America (GIA) grading terminology while applying alternative grading standards that overstate the quality of diamonds. While some EGL grading reports are more consistent with GIA grading standards than others, there is, in our opinion, confusion and inconsistency among the various EGL grading reports; RapNet has therefore decided not to list any EGL grading reports on RapNet.
From Polygon:
Polygon has been closely following the current discussions regarding EGL International, both on and off of the network. The general consensus from the industry supports the restriction of the trade of EGL International goods, due to the discrepancies in grading standards from those of the GIA.
The bans come after news station WSMV in Nashville, Tennessee, ran a story about local jeweler Genesis Diamonds, which sold diamonds of "exaggerated quality" with accompanying EGL International reports. Read the full story and see the video here. And according to WSMV, three lawsuits have been filed against Genesis Diamonds for misleading customers about the quality of some diamonds.
If you are new to diamond grading, grading is done by humans, so while graders are highly trained, grading is subjective. It's not mechanized, and many in the trade feel that if laboratories are using GIA terminology, then GIA standards should follow. There are other laboratories like American Gem Society Laboratories that use their own grading terminology and standards.
EGL has been criticized ad nauseam for inconsistent grading. But to make matters more confusing, EGL USA and EGL International (formerly called EGL Israel) are different labs and are known to have different standards, though both bear the EGL name. Some feel that EGL USA is more consistently aligned with GIA grading standards than EGL International. Polygon has delisted EGL International reports only, while RapNet has banned reports from all EGL branches.
EGL USA director Mitch Jakubovic responded to RapNet's delisting last week:
"EGL USA is a highly regarded, independent gemological laboratory. In particular, the lab's GIA- and FGA-trained gemologists are recognized for consistent grading and significant achievements in gemological research.
"EGL USA is in no way affiliated with any E.G.L.-named laboratories outside of North America. In fact, as the sole owner of the trademark in the United States, EGL USA is the only E.G.L. lab with the legal right to issue gemological reports here.
EGL International released their statement about the trading networks' bans and commented on a U.S. border ban on grading reports:
There has never been and there is no USA border ban on diamond grading reports issued by EGL. EGL certificates are legitimate and issued legally worldwide.
With regard to the Rapaport Group's decision to delist diamond grading reports of EGL and that it views GIA as the industry standard, EGL International wishes to state that:
The use of the term "standard" suggests that such a standard EXISTS. However, at this point in time, there is no single, international standard for diamond grading that has national or international status or acceptance.
As you can imagine, the controversy over these bans will continue. To catch up on EGL ban news, check out the following press releases and stories.
Rapaport: RapNet to Stop Listing EGL Grading Reports
Effective October 1, 2014, diamond grading reports from all European Gemological Laboratories (EGL) will no longer be listed on the RapNet Diamond Trading Network.

Polygon De-Listing All EGL International Lab Reports
As of September 17th, 2014, EGL International certificates will no longer be listed on Polygon's Certified Diamond Database.
EGL USA Responds to Pending Removal from Rapnet List
In response to the pending removal of EGL USA from the Rapnet list, Mitch Jakubovic, director of EGL USA, released the following statement.
EGL International Reacts to RapNet Decision to Delist Grading Reports
Recently, the Rapaport Group announced that effective October 1, the RapNet diamond trading network will no longer accept diamond grading reports issued by EGL on its members-only platform.
JCK: How Can We Maintain Consistent Diamond Grading Standards?
In response to my blog post last week, Don Palmieri, president of the Gem Certification & Assurance Lab (GCAL) wrote in with his view on how to solve the problem of variable lab standards…
Idex: Delisting of EGL Grading Reports Causes Controversy
Despite a move by the RapNet Diamond Trading Network to remove all European Gemological Laboratories (EGL)-certified diamonds from its listings as of October 1, some companies – including IDEX Online – have said they will continue to list the goods.
National Jeweler: RapNet's EGL decision ignites flurry of reactions
It's an issue that has been a topic of discussion in the industry for years but seems to have reached a boiling-over point, heated by the string of lawsuits filed against a Tennessee jeweler over EGL International reports and, more recently, a decision by Rapaport.
What do you think about the EGL bans? Join our forum discussion: