By Erika W.
Retail Diamond Prices Down
The list below reflects retail diamond price changes for October 2011. Prices are based on vendor listings of over 450,000 diamonds in the Pricescope database. The price chart is updated monthly.
Retail Diamond Price Percentages for October 2011
0 to 0.5 ct 3% down
0.5 to 1.0 ct 2% down
1.0 to 2.0 ct 2% down
2.0 to 3.0 ct 1% down
3.0 to 4.0 ct 1% down
4.0 to 99 ct 2% down
Pricescope Updated Diamond Price Chart
The Pricescope diamond price chart illustrates minor price decreases from October to November 1st. Pricescope has been charting retail diamond prices since 2007.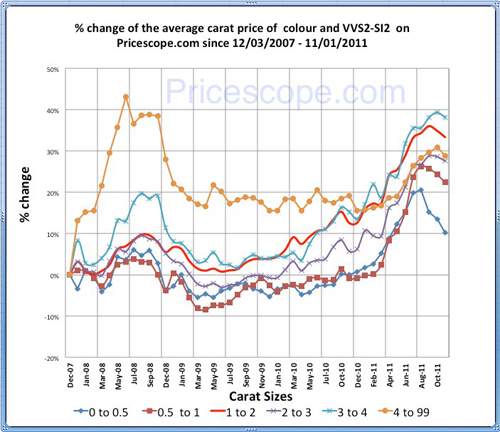 Polished Prices: Diamond prices weaken through October
With economic worries affecting the diamond markets throughout October trading volumes remained light and prices drifted downwards.
IDEX Online Research: Polished Diamond Prices Slip 1.6% in October
Global polished diamond prices slipped again in October for the third consecutive month, according to the IDEX Online Global Polished Diamond Price Index, but showed some vitality near the end of the month.
Commodity Online: Diamond prices fall on soft trading, fundamentals robust
Investment diamond prices have fallen seven percent since August amidst soft trading activity.
Rapaport News: RapNet Diamond Index Falls 3.5% in October
November 3, 2011, New York: Certified polished diamond prices fell in October, as buyers continued to push for deeper discounts.
Related Topics:
Diamond Prices News Roundup – September 2011
Diamond Prices – Down According to RAP, Up from Vendors?

Rising Retail Diamond Prices – Mid-Year Review