By Erika W.
Retail Diamond Prices Update
The list below reflects changes in retail diamond prices for November 2011. Prices are based on vendor listings of over 450,000 diamonds in the Pricescope database. The price chart is updated monthly.
Retail Diamond Price Percentages for November 2011
0 to 0.5 ct 2% up
0.5 to 1.0 ct no change
1.0 to 2.0 ct no change
2.0 to 3.0 ct no change
3.0 to 4.0 ct 1% down
4.0 to 99 ct 2% up
Pricescope Updated Diamond Price Chart
The Pricescope diamond price chart illustrates a 2% increase for carat weights of 0 to 0.5 and 4.0 to 99 and a 1% decrease in prices for 3.0 – 4.0 carats. Retail diamond prices stabilized in the range of 0.5 to 3.0 during the month of November. Pricescope has been charting retail diamond prices since 2007.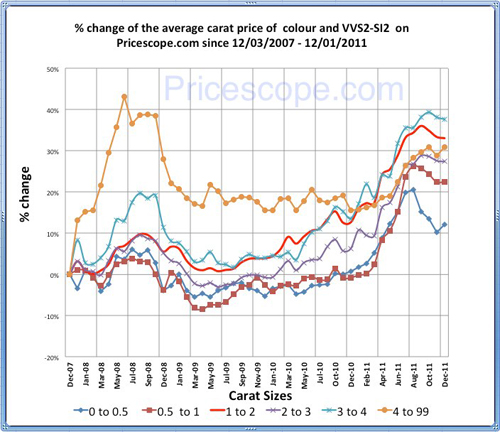 Rapaport November 2011 Research Report: Signs of Stability
Diamond manufacturers and dealers regained some confidence in November as prices showed signs of stability following the monthly declines that took effect since July.
Polished Prices: Diamond prices highly volatile through November
Polished diamond prices were highly volatile through November as a battle of strength developed between buyers and sellers.
Saul Singer for Commodity Online: Who is pushing up diamond prices?
The surge in diamond prices in the face of the overall turbulent economic environment has grabbed the headlines and has left many analysts left to grapple with why diamond prices continue to rise during such uncertain economic conditions.
IDEX Online Research: Polished Prices Soften 0.2% in November
Polished diamond prices softened in November as the wholesale sector of the pipeline sought a steady footing during the first half of the 2011 holiday season.
Related Topics:
Diamond Prices News Roundup – October 2011
Diamond Pair Sets Record at Christie's Hong Kong

Prices Buying Diamonds From a contact