The holiday period is over and 2021 is well underway. Over the past two months, we saw the average price of round diamonds increase compared to most parts of 2020. However, the question that most critics are asking is: Has the 20/21 holiday season saved the diamond market or will we see a second wave of depreciation this year? Let's take a closer look at the Top 5 Popular Diamond Shapes and the average price of round diamonds for February 2021.
POPULAR DIAMOND SHAPES

Round diamonds continue to be the most popular shape of a diamond on the market consuming 76.55% of the market's popularity. Followed by Oval (4.92%) and then Cushion (4.05%) placing third. Round diamonds have increased in popularity over the past month, therefore decreasing the popularity (%) of the other four shapes. It is interesting to note that the Cushion shape has placed third in the Top 5 Popular Diamond shapes compared to January 2021, overtaking the Emerald shape on the popularity chart. 
DIAMOND PRICE CHART FOR ROUND DIAMONDS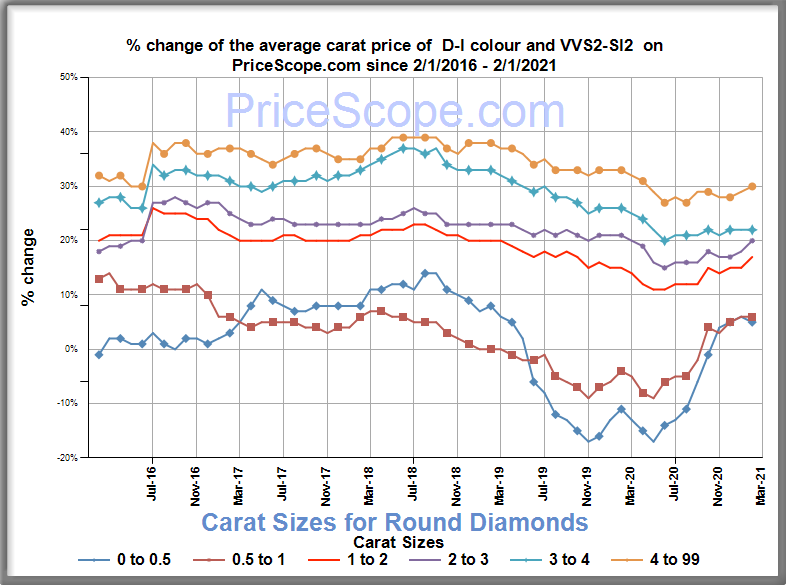 The table below gives you the rundown and details of the changes for the last three months (12/01/2020 – 02/01/2021).
Diamond Price Changes from 12/1/2020 to 2/1/2021
Diamond Carat Sizes
12/1/2020
1/1/2021
2/1/2021
0.0 – 0.5
1 %

↑

1 %

↑

-1 %

↓

0.5 – 1.0
2 %

↑

1 %

↑

0 %
1.0 – 2.0
1 %

↑

0 %
2 %

↑

2.0 – 3.0
0 %
1 %

↑

2 %

↑

3.0 – 4.0
1 %

↑

0 %
0 %
4.0 – 99
0 %
1 %

↑

1 %

↑
This February the average diamond price per carat for a round diamond of 1 – 1.4 carat G color VS1 clarity is $7,657 compared to January 2021 which was an average price of  $7,797. We have seen a slight decrease in the past month. 
The current average and lowest prices per carat are shown in PriceScope's diamond price charts by carat and their corresponding color and clarity. 

We advise consumers to keep in mind that cut quality and vendor services such as upgrades and returns can make a significant difference in the price point when shopping for loose diamonds.
PriceScope has been collecting retail diamond prices since 2007 of over 500,000 diamonds. PriceScope diamond price chart page shows the full diamond price charts for rounds and other fancy shapes. We update the diamond prices on a monthly basis. Keep an eye on February's diamond prices. 
With Valentine's Day just passing us by – could we see an increase in retail diamond prices come March or will we see a continuous decrease? Only time will tell. Share your thoughts with us by clicking on the "comments" button below. 
LATEST PUBLICATIONS ON DIAMOND PRICES
Edahn Golen – Diamond Research and Data:
Dive and Bounce: The Golan Diamond Market Report Q4 2020
The saying is what goes up, must come down. However, in the diamond jewelry industry, the opposite is equally true: what goes down, must come up. A dive and a bounce back. So while 2020 was a challenging year, it recovered quickly, and all came together in the fourth quarter. 
Rapaport:
Rapaport Weekly Market Comment
Polished market segmented. Goods below 1 ct. softening, with slowdown in D, IF category after strong 2020 recovery.
Coronavirus Updates: Impact on the Diamond Trade
The Covid-19 pandemic that has swept the globe has had a notable impact on the diamond industry, with new developments unfolding every day. 
Diamond Prices Soften as Supply Rises
The diamond trade began the year with optimism following a relatively successful holiday season. Polished-diamond suppliers anticipated steady inventory replacement in the first quarter. December and January, therefore, saw strong rough buying. The subsequent increase in polished inventory levels led prices to soften in key categories.
IDEX: 
Bidding is "Back to pre-Covid Days" says BlueRock
BlueRock says it sold an exceptional 14.8-carat diamond for $167,000 – equating to $11,300 per carat, as bidding returned to pre-Covid levels.
IDEX Polished Diamond Price Index Hits Year-on-Year High
Year-on-year diamond prices for January 2021 bounced 1.5 percent, breaking through the x-axis for the first time since April 2019.
JCK Online:
What History Says About the Current Diamond Battle
When Dan Scott, the founder and brand architect of Luxe Licensing, hears natural and lab-grown diamond sellers take shots at each other, it pains him. Because he has seen this movie before.