By Erika W.
Some of the latest stories in diamond and jewelry news…
Rapaport News: Leibish & Co. Unveils The 'Prosperity Pink Diamond'
Leibish & Co. unveiled a 1.68-carat special vivid purplish-pink, I1 clarity, radiant-shaped polished diamond cut from rough the company won at this year's Argyle pink diamond tender.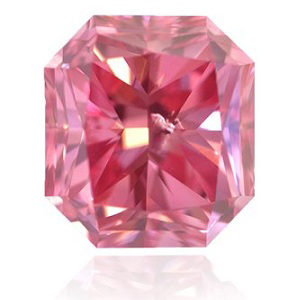 Photo: Leibish & Co.
JCK: De Beers Antitrust Claims May Finally Be Paid
If you filed a claim in the De Beers class action antitrust settlement, you may finally be getting your money in the near future, thanks to a new court decision..
Reuters Africa: UPDATE 2-Petra sells blue diamond for record $1.45 mln
Petra Diamonds Ltd has sold a 4.8 carat blue diamond for $1.45 million, the highest amount it has achieved per carat for any uncut diamond, the company said on Wednesday, as it moved up to London's main stock market.
JCK: Beware Glass-Filled Ruby, Trade Warns
Industry groups have teamed up to issue an urgent message: Glass-filled ruby is out there, and it's not being disclosed.
Reuters: Taylor auction is a gem, sales top $157 million
Auctions of Elizabeth Taylor's collection of jewels, gowns, art and memorabilia broke records last week on their way to totaling more than $150 million worth of live and online sales, Christie's said on Monday.
KY3.com: Man finds 3.38 carat diamond in Arkansas
The park where the diamond was found is the only diamond-producing site in the world that's open to the public.
Idex: Online Retail Spending Continues to Rise

More American's are turning to online buying, leading to a 15 percent rise in online purchases in the first 48 days of the November – December 2011 holiday season.
Style Bistro: Britney Spears Debuts Engagement Ring
Newly engaged Britney Spears showed the world her 3-carat engagement ring at Chateau Nightclub in Las Vegas on December 16, 2011.
Related Topics:
Kimberley Process – Fair Trade Diamond News Roundup December 2011
Leibish & Co. Wins at the 2011 Argyle Pink Diamond Tender
Elizabeth Taylor's Jewelry Auction Achieves a Record $115.9 Million