By Erika W.
Some of the latest stories in diamond and jewelry news…
BBC News Video: Making diamonds with a blowtorch
DIY Diamonds
Natural diamonds are formed in the intense pressure and heat of the Earth's mantle at depths of over 100km.
Jem Stansfield attempts to grow diamond crystals, using the heat of an oxy-acetylene welding torch.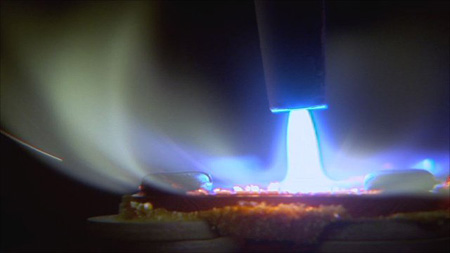 Photo: BBC News
JCK: Rapaport's New Certs—For Ethics
By Rob Bates
Last week, in a slew of announcements, Martin Rapaport announced he would launch an "ethical certification" system. You can read some of his reasoning here; today, I spoke to Rapaport for some idea on how this will work.
Smithsonian Science: 500 carats of rough diamonds donated to Natural History Museum
More than 500 carats of rough diamonds were recently donated to the Department of Mineral Sciences of the Smithsonian's Natural History Museum by Jewlers Mutual Insurance Co. of Neenah, Wis. Although rough diamonds have a limited market value, their value to the museum for research and display is considerable.
Electronics News: Microwaves + diamonds = quantum computing platform
DIAMONDS, it turns out, are the quantum researcher's best friend, providing one more glittery step toward making quantum computing a reality.
Forbes: Pandora's IPO Under Investigation
Danish regulators have recommended an investigation of Pandora's IPO. The jewelry maker issued one of the largest floats in 2010.
The New York Times: A Block Abuzz With the Business of Gold
The price of gold is indeed up. It soared to an all-time high last week, not adjusted for inflation: over $1,800 an ounce for pure 24-karat gold. The spike has set off a flurry of sales in the diamond district.
Related Topics:
Kimberley Process News Roundup – August 2011