We did it PriceScopers! We made it to the final month of the year. My how time flies! For the final birthstone blog, we're looking at two of December's three birthstones, turquoise and tanzanite. Even though they're three different stones that come in multiple colors, blue is the overwhelming favorite selected to represent this month. It could be because December is a winter wonderland, but whatever the reason, blue is the reigning color of the month.
Tanzanite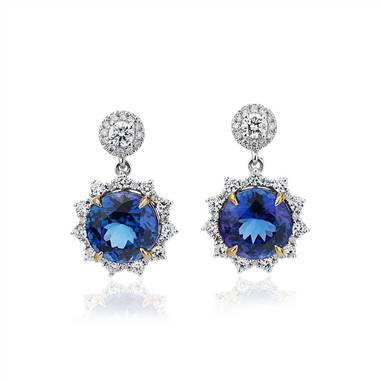 Tanzanite is a rare beauty. This is because it is only found in one place on the entire planet, Tanzania. Hence, the stone's name. The stone is a deep, rich blue with undertones of purple. Although the overt color is blue, it is difficult to find a tanzanite exhibiting a true blue shade. This pair of earrings are an exemplary showcase of tanzanite's beauty and one would be lucky to own this pair of earrings.
Turquoise
Turquoise is a stone that needs no introduction. It's been adored throughout many centuries and many cultures. When we say centuries, we mean it. King Tut was buried with the stone. Native Americans revered the stone because they believed it gave life and brought good fortune. This turquoise ring showcases a fresh and modern look ideally suited for the modern woman.
December is a month brimming with hope because of the new year to come and from where we have been. These birthstones provide a great foundation for anyone hoping to harness some of their magic to take them through to the new year and beyond.
(featured image at top is Tanzanite Cushion and Diamond Halo Pendant in 14k White Gold from Blue Nile)

By PS Staff