The Awe-Inspiring Oval Cut
I absolutely love a fancy cut diamond and I've been seeing more and more fancy-cut engagement rings since I receive my very own fancy cut diamond (fancy light yellow cushion cut if you're curious). Chalk it up to Baader-Meinhof phenomenon – you know, once you buy something, you begin to see it everywhere – but I can't stop noticing beautiful, fancy cut engagement rings now.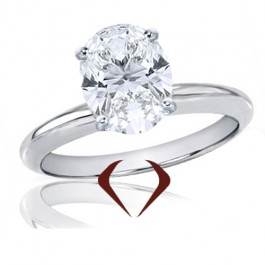 Oval diamond solitaire ring set in 14K white gold

at I.D.Jewelry
One cut which has really caught my attention recently is the oval cut. Oval cut diamonds are a type of modified brilliant round cut diamond. Oval diamonds give the wearer the illusion of long, elegant fingers. They're also easier on your pocket that a round diamond, so you can get more bang for your buck with this cut.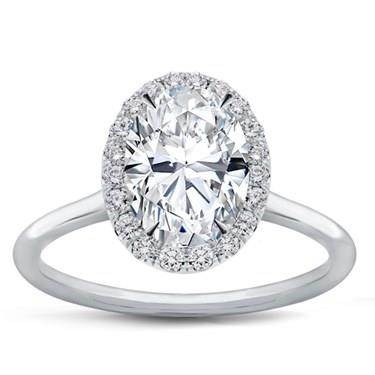 Plain band oval halo engagement setting

at Adiamor
Speaking of bang for your buck, did you know that oval diamonds also look larger than than round-cut brethren? Therefore, if you're itching to eke out a bigger stone on a budget, then this cut is for you. Now, place that same stone in a halo setting and you may be able to have the appearance of up to a carat larger without draining your bank account.
Three row pave engagement ring setting set in 18K rose gold

at Adiamor
One drawback to this cut however is that it lends itself to the bow tie effect. This is where a dark shadow resembling a bow tie appears in the center of your stone. To avoid this issue, ensure that your stone has a table size between 53% and 63%. Or you can just inspect your stone in person as it is easy to spot a prominent bow tie effect with the naked eye. Please note that all oval cut diamonds have a bow tie effect, but you want to avoid the diamonds with a large, bow tie effect as it will greatly diminish your diamond's brilliance.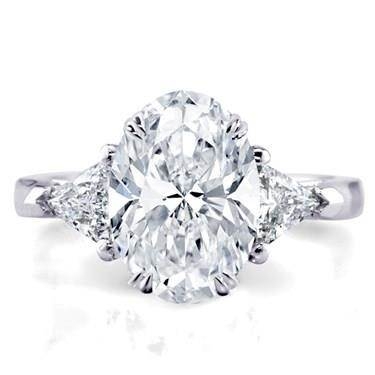 Three stone trillion setting for cushion or oval set in 14K white gold

at Adiamor
Oval cuts elongate the finger, give off great sparkle and are easy on the pockets. Avoiding it's one drawback, the bow tie effect, is easy if you just view your soon-to-be stone with the naked eye. This is why the fancy cut oval engagement ring is one of my favorite diamond cuts and look forward to seeing more of them on your fingers.

By PS Staff