It appears as if one Oscar winner read our post the other day to prepare for her Oscar night because she stepped on the red carpet wearing none other than the sunny yellow Tiffany diamond!
We won't recap our entire love for yellow diamonds but instead delve into why the Tiffany diamond was the best jewelry piece of the night to waltz down the red carpet.
Money, Money, Money
It is reported to be the most expensive piece of jewelry ever worn to the Oscars. It costs upward of $30 million dollars and it is worth every, single, penny.
Oh You're Fancy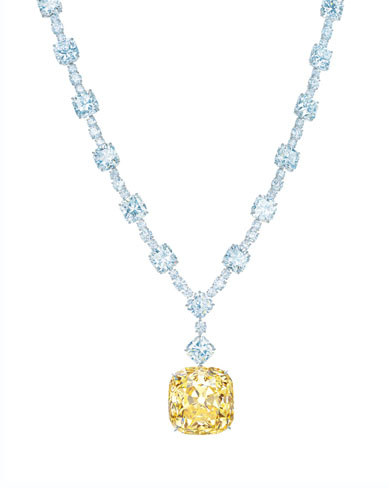 The stone is a gorgeous fancy yellow diamond. It was discovered in South Africa and weighed in at a whopping 287 carats. Charles Tiffany saw the stone's promise and purchased it a year later. He then trusted his close friend and gemological expert to cut the stone to its ideal properties. The result was an 128 carat, fancy yellow cushion cut.
Historic Jewel
The stone may have made history at this year's Oscars, but it has a long history with fashionable women. It was first exhibited during the 1893 World's Fair and then on the impossibly slender neck of one Audrey Hepburn for promo shoots for Breakfast at Tiffany's.
Quick Change Star
The company has owned the diamond for 141 years and it has undergone some changes. One of the best aspects of the diamond is that it has been set in a brooch as well as placed on a separate chain depending upon the look.
Lady Gaga (now Oscar winner) set the world alight with her performance in A Star is Born and she required a stone which would hold up under her star power. The result, the Tiffany diamond; a historic and beautiful necklace to last for the ages.

By PS Staff