The moment you've been waiting for . . .
This year we are celebrating the 6th Annual PriceScope Get Together (GTG) in Las Vegas! For those who are new to the GTG, we hold the event every year at a commendable space where our members–both consumer and trade–can get to know each other in the spirit of Pricescope. Each year we give away an array of door prizes provided by our Featured Sponsors and contributing forum vendors. We are simply stunned by their generosity!
We are starting off our door prize "sneak peek" with this gorgeous Beverly K. pendant from Crafted By Infinity (CBI) and High Performance Diamonds!
One eligible consumer member attending the 2016 Pricescope GTG will have the chance to win this pendant that is going to be made with a 0.34ct G-SI1 Crafted By Infinity center diamond instead of the aquamarine. The 18k white gold pendant will hold 0.70ctw of natural G-SI1 diamonds in addition to the center diamond, that's a total carat weight of 1.04 carats. Retail value of the complete piece is $5,016.
Here is the actual finished piece shown with the CBI diamond: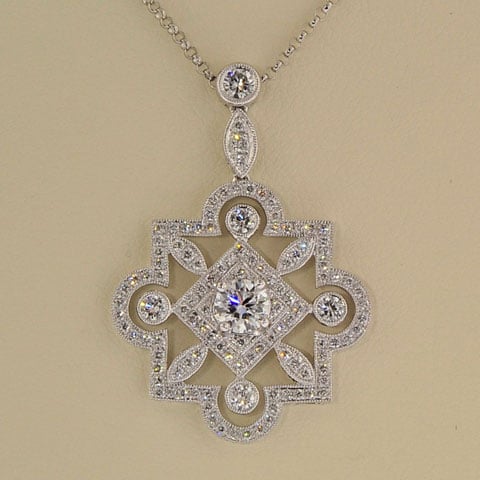 ANNOUNCING: High Performance Diamonds chose Beverly K. as their newest designer because their pieces have that delicate, feminine vintage feel with perfect milgrain and unexpected details; many of their pieces have hand engraving accents on the sides of the gallery. They also have the ability to customize any of their pieces and the sapphires used are beautiful and bright blue (no dark stones)! High Performance Diamonds are very excited to be able to offer Beverly K. pieces to their clients!
A very special thank you to Crafted By Infinity and High Performance Diamonds for this generous donation!