It's that time of the year again and we're hosting our 6th Annual PriceScope Get Together in Las Vegas during the JCK jewelry trade show! Each year we provide a venue for our members – both consumers and trade – to get to know each other in the spirit of PriceScope. That spirit has grown over the last six years, what has started as a small gathering has become a major event featuring YOU – our fabulous members and our amazing Featured Sponsors!
PriceScope members share their gorgeous jewelry at the GTG! Diamondseeker2006, our beautiful and longtime member, shared this stunning image of traditional bling from our 5th Annual PriceScope GTG shown on the hands of our lovely Madelise! Thank you for sharing, Diamondseeker2006 and Madelise!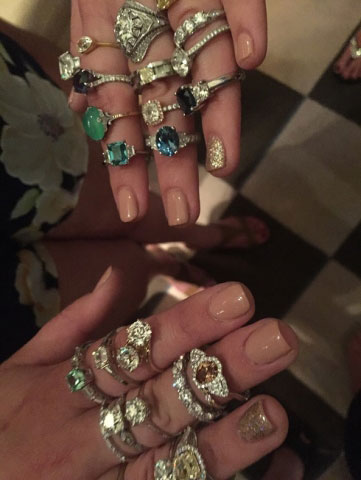 This year's event will be held in the beginning of June. Please click the following to visit our forum thread for more information and to RSVP: 6th Annual PriceScope GTG in Las Vegas!
Hope to see you there!