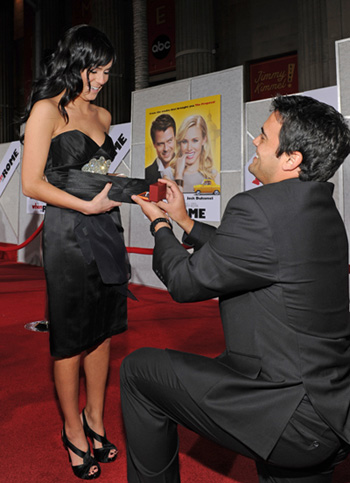 Photo: Robbins Brothers
U.S. Navy SEAL Chad Williams proposes to Aubrey O'Boyle
The term "key to her heart" is a metaphor commonly used these days, but like many modern expressions of love, specifically those attributed to engagements and weddings, it is based on an ancient tradition that had significant meaning to couples about to tie the knot.
A key engagement ring, made of brass, iron or bronze, was given to a bride during the third century in Rome and represented a bride sharing the possessions of her husband's home. Over time precious gemstones replaced keys, and diamonds, rubies and emeralds came into favor with betrothed royalty in the 1700s. It wasn't until the late 19th century that Americans started to embrace the diamond solitaire engagement ring, a tradition that continues to this day in many Western cultures.
Couples in love in other parts of the world have chosen some rather unique ways to profess their lifetime commitment, and it's the gentleman who has to endure some serious character-building encounters before he even pops the question. For example, according to Brazilian folklore, the man would prove himself a suitable husband by taming an unbridled donkey, while in Austria a man would recognize a pack of wolves on his path to propose marriage as a very good sign of a long and happy relationship.
Upper body strength, and undoubtedly lots of target practice, is helpful in the Philippines, where a young man would have thrown a spear at his girlfriend's front door to let her know he's ready to commit.
Lest you think the women get off easy, imagine the pressure of a young woman in Armenia who must stay in her room until her parents accept the marriage proposal from the groom and his family. And for the young lady in China who is sure she found "the one," she must first await the approval of an astrologer to determine if the boyfriend's birth date makes him ideal husband material.
Korean folklore states that if you're a single gal in love in Korea, and you spot a pair of enormous geese walking outside your parents' home, start working on the guest list for your wedding, as this romantic act is as good carries the same meaning as a one carat diamond engagement ring.
Many traditions that originated in other parts of the world continue to live on today in the United States. Today some African Americans incorporate "Jumping the Broom" into the wedding as a symbol of making the move from single to married to life. Mexican Americans might designate godparents who help plan and pay for the engagement and wedding details, and El lazo (the lasso) at a Catholic ceremony may be placed around the bride and groom's shoulders to represent the equally shared responsibilities of the husband and wife in a marriage.
A Jewish wedding custom is to have the groom break a glass after he gives his bride the ring, as a reminder that joy must be accompanied with calmness. After the groom steps on the glass with his right foot the wedding guests shout out "Mazel tov" to wish the couple good luck. The foot also plays an important role in British tradition: the "sixpence for your shoe" has been considered a lucky symbol for centuries and brides around the world still place a coin in their shoes before they walk down the aisle.
And while the white dress and everything it symbolizes is well known, the color blue, which also represents purity and loyalty, continues to be an important part of wedding day attire. In days gone by the bride might have modestly worn a blue bow on her dress, or carried a bouquet of blue flowers. A modern bride will likely wear a blue garter, nail polish, or maybe even blue crystal platform shoes.
by Diane Ferraro
Advertising Director
Robbins Brothers – The Engagement Ring Store

What traditions do you plan to celebrate at your wedding? Share your cultural or family traditions for others to see or post your question about a tradition origin on the forum.