What are Promise Rings? – Basics
A Promise Ring symbolizes commitment and hope for a relationship's development. It's important not to confuse a promise ring, with a purity ring, described below.
PriceScope Pointer: Promise rings can be any combination of precious metal, gemstone (optional) and style.
Before going on: Check out the PriceScope Diamond Buying Guide
These pages may reference products from companies that help to support PriceScope.
Promise Rings Described
Promise rings are used to imply commitment to an exclusive relationship. They are not engagement rings but frequently imply that a couple is on a path toward engagements. A promise ring shows the world that a relationship is serious. They are used as outward expressions of commitment by couples separated by physical distance, placeholder rings for young couples who imagine future engagement or clear proclamations of love by partners of any age who want to demonstrate commitment but don't intend to marry.
Find promise rings now: Two of our vetted vendors offer a variety of promise rings. Check out the many affordable Blue Nile promise ring options, including lab grown diamond rings. As colorful alternatives, JamesAllen.com has a budget-friendly rainbow of fashionable colored gemstone rings.
The Story of Promise Rings
Promise rings have been given since the Middle Ages, when men would give 'Posy Rings' (from the French word poésie, meaning poetry) to maids in whom they were romantically interested. Posy Rings were often inscribed inside with poems or love messages. That habit remained popular through Victorian times and remains of the the motifs used for promise rings today. The inscription tradition which descended from Posy Rings is also used inside engagement rings and wedding bands.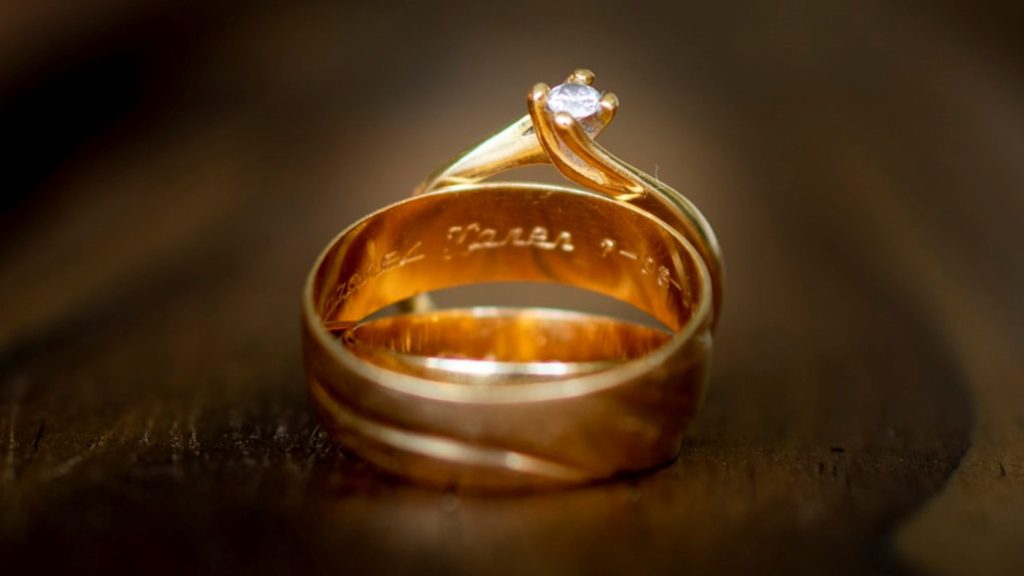 Purity Rings
A promise ring should not be confused with a purity ring. Purity rings are not given or exchanged between couples. A purity ring, chosen by the wearer, and reflects a commitment to oneself rather than any other person. Also called a chastity ring or abstinence ring, a purity ring is often associated with a religious commitment by the wearer to keep the body, heart, and mind pure and focused on faith before marriage. A purity ring is traditionally worn on the left finger until it is replaced by a wedding ring – provided by the eventual partner for life.
Friendship Rings
Friendship rings are much like promise rings with no connotation to romance. As the name implies, a friendship ring is an outward demonstration of a strong, meaningful friendship between two or more people who care for each other without romantic involvement.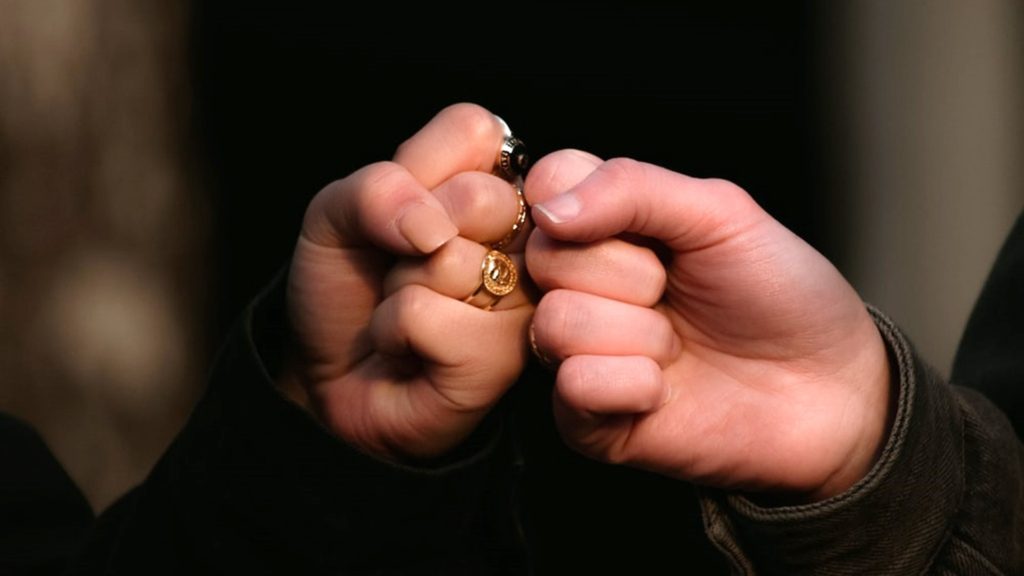 Promise Rings: Let's Get Practical
Promise rings are sometimes referred to as pre-engagement rings or commitment rings. They essentially forecast a pledge of lifelong commitment. For that reason, a promise ring should not be given casually or lightly. You should only give a promise ring to a person you hope to be with for the rest of your life.
Timing and distance factors often stimulate an exchange of promise rings. When graduating from high school or university sweethearts frequently use promise rings to symbolize outward expressions of commitment while one or both partners travel away for further schooling, a distant job, military deployment, etc.
Pre-Engagement Rings
Couples of all ages exchange promise rings when they are emotionally ready to become engaged but not yet financially ready. When used as a deliberate placeholder for ultimate engagement, these are called pre-engagement rings.
Commitment Rings
Some people who do not believe in marriage still exchange rings to symbolize love and commitment. Those rings are called commitment rings instead of promise rings since they symbolize complete commitment now rather than a "promise" of something in the future.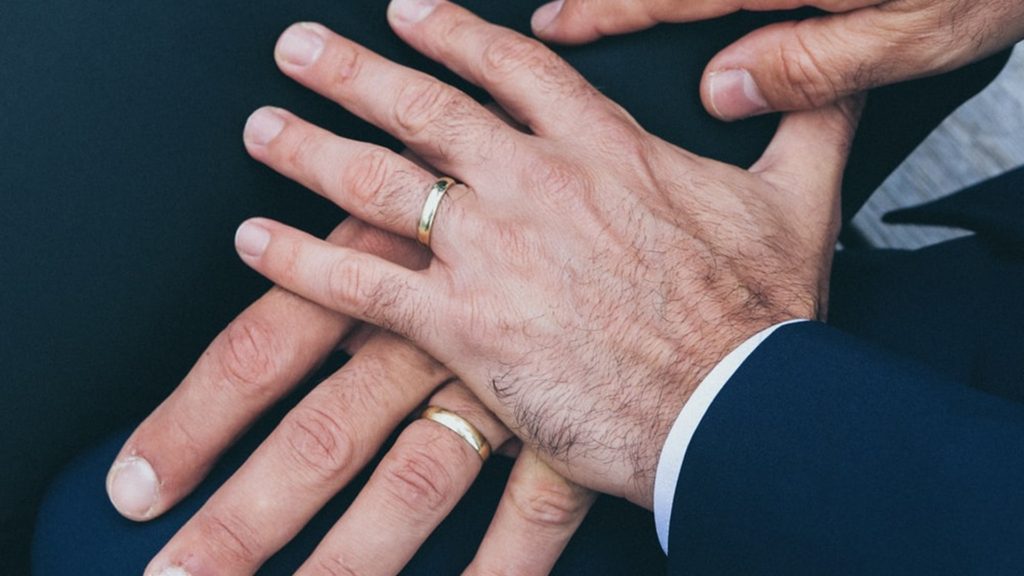 Promise Rings: Real World Information
Promise rings are usually kept simple since most people don't want them confused with engagement rings. The average promise ring is also notably less expensive than the average engagement ring but the choice of budget – as well as style – is entirely personal.
Promise ring styles
Promise rings exist in an infinite number of styles and motifs. They can be made of any metal. They can use gemstones or be absent of gemstones. They can be plain bands, solitaires, three-stone rings, or eternity bands. They can employ shapes like hearts, love knots or infinity symbols. They can have inscriptions or engravements of names, fingerprints, numerals, or other meaningful items. Couples who like to plan things ahead of time may choose to exchange promise rings which eventually serve as wedding bands or stackable promise rings which can be incorporated into a future wedding set.
Popular Choices
White and yellow gold are classic metal choices for "rings of significance" but rose gold has also become very popular. Sterling silver is a beautiful, cost-effective option for couples on a budget, as are many colored gemstones as a substitute for diamond.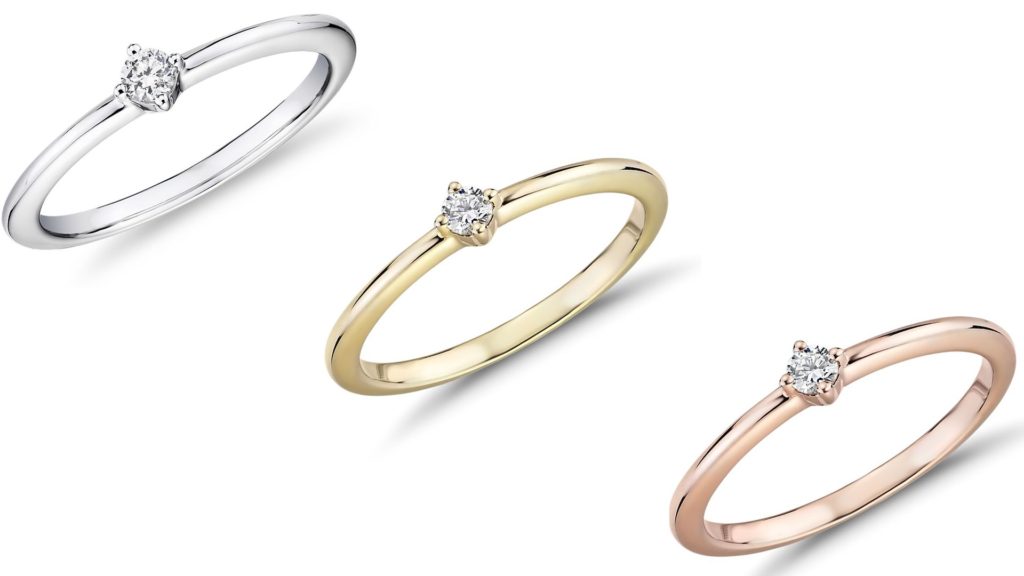 Intermediate Promise Rings
How do I give a promise ring?
It's important that a recipient does not mistake the moment a promise ring is given for an engagement proposal. Whether you discuss it ahead of time, or make clear the meaning in the moment, be sure the meaning of the promise ring is clear from the moment it's given. Beyond making its meaning clear – giving or exchanging promise rings with your partner provides an opportunity to clearly state what your relationship means now and with the promise ring is meant to imply, looking to the future.
When do I give a promise ring?
Promise rings are often given or exchanged on dating anniversaries, significant dates for the couple, holidays, or birthdays, but they can be given on any occasion.
What finger does a promise ring go on?
Promise rings can be worn on any finger. They are commonly worn on the left hand "ring finger," an enduring tradition which started with the belief that a vein from the heart runs to that finger. While that notion is not anatomically correct, there is no doubt that a ring worn on that finger effectively communicates that the wearer is in a committed relationship.
Alternate Adornment
Some people choose to wear their promise rings differently. They can be worn on any finger, from pinky to thumb. For those with active hands, or who don't want to draw attention to their jewelry, the ring may be worn looped through the necklace chain or, optionally, worn looped through a bracelet.
Promise Rings for Men
Men wear promise rings for the same reason women wear them – as symbols of love and commitment, as a pre-engagement placeholder or as an alternative to engagement or wedding rings. A woman with a male partner may even choose to take the initiative and offer him a promise ring, in the same manner a man traditionally pops the engagement question. Promise rings for men are generally thicker than those for women, frequently plain bands unadorned with gemstones, but there are no rules when it comes to style. Some couples, same-gender and mixed, like to wear matching promise rings.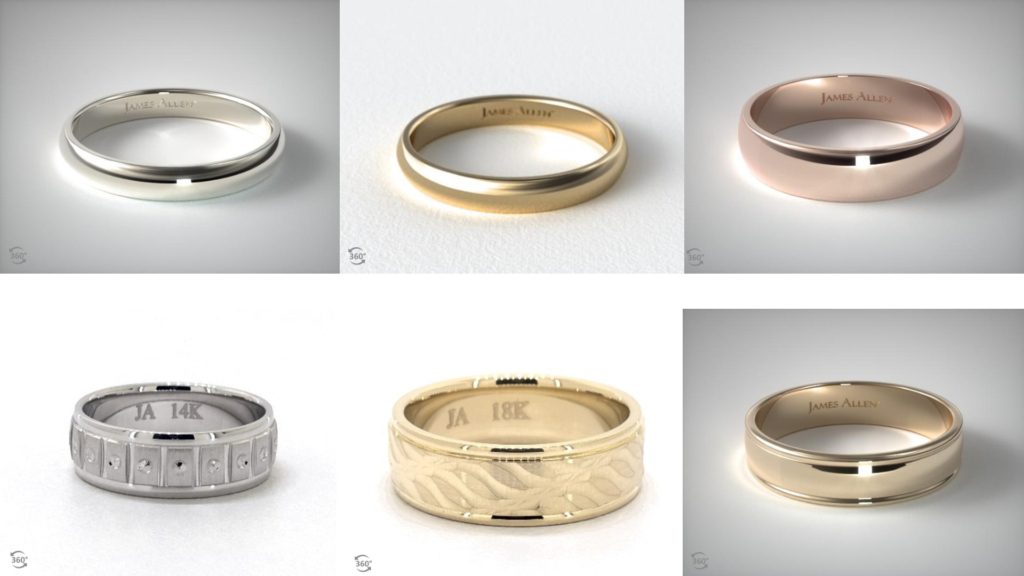 For meaningful purchases it's important to find a seller you can trust for life. To make confident ring purchases from vetted vendors with the best business practices, read the PriceScope Diamond Buying Guide.
You can click the links in the blue box at the top of this article for some of the best prices from our vetted vendors. Check out our Diamond Price Guide to see how different factors impact a 1 carat diamond's price. We have also included a diamond price calculator for you to see today's prices in real-time, based on more than 500,000 diamond listed in our search engine.
Two diamonds of the same carat weight can appear to be different sizes, depending on both their physical spread. Two diamonds of the same color can look different, depending on their proportions. Learn how to select a diamond that remains bright from edge to edge and has best color appearance on our page on Diamond Cut.