How to Measure Ring Size?
How to measure ring size – Basics
It's nice to know the correct ring size before placing an order. While many sellers offer free resizing, the gifting experience is smoother if the recipient is good to go "out of the box."
PriceScope Pointer: Click and print the PDF below to determine the size of a wearer's existing ring – or use the cutout to measure finger size directly.
Before going on: Check out the PriceScope Diamond Buying Guide
These pages may reference products from companies that help to support PriceScope.
Ring Size Described
Ring sizes in the U.S. and Canada follow a series of numbers and half-numbers which typically range from 3 (smallest) to 13.5 (largest). The average size for a ladies' left-hand ring finger ranges between 5 and 7 but ring size depends on a person's individual physiology, the hand, and the specific finger in question.
Correlation to Millimeters
The ring size is based on a measurement of the inner circumference of the ring. There is that circumference in millimeters and the given size. For example, a size 3 ring has a circumference of 14.0 mm, a size 4 ring has a circumference of 14.8 mm, etc.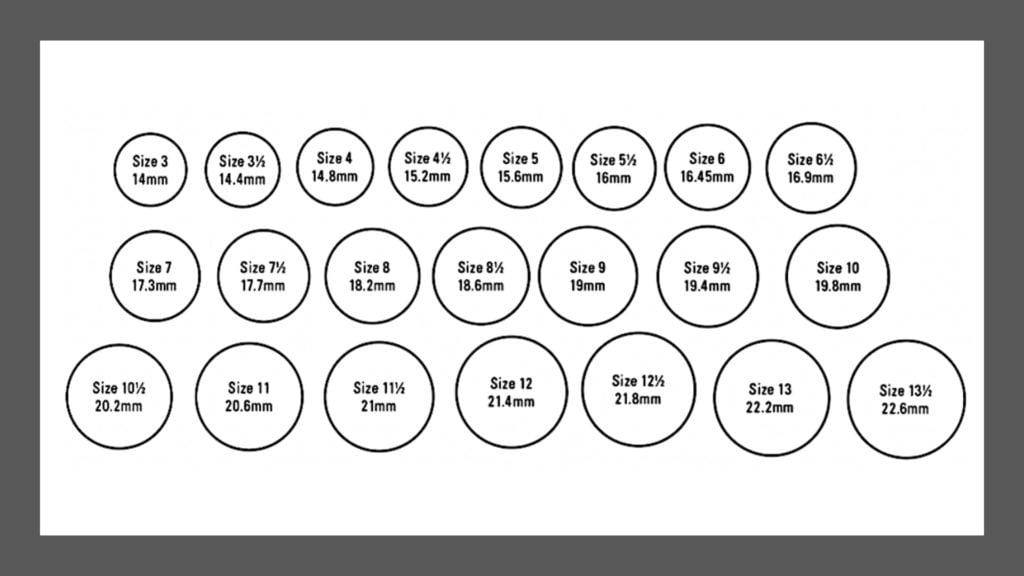 Ring Size: Let's Get Practical
The size of an existing ring can be determined using the printable PDF below. Be sure the ring you choose to measure is one the recipient wears comfortably, and on the intended finger.
Set print dialogue to USA Letter Size Paper (8.5″ x 11″) scaled to 100%.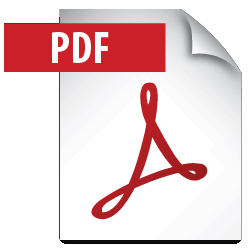 You can also use the cutout tool on the same page to measure and determine finger size directly.
Ask our vetted vendors to help you: Some of our vetted vendors will help you determine ring size. Blue Nile will mail you a ring sizer. JamesAllen.com has a virtual ring sizer and Whiteflash has a ring size tool you can use with your desktop computer monitor. These stellar sellers will do everything they can to ensure you get the perfect fit.
Human Physiology
If you're establishing your own ring size with the cutout tool, take your physiology into account.
If you know your knuckles are on the larger side it's prudent to go a half-size larger than the circumference of your finger, or else you may have difficulty sliding the ring on and off.
Your fingers fluctuate in size, depending on environmental considerations like temperature. They can be smaller in cold weather and swollen when you're overheated. Knowing this, it's a good idea to measure your finger when it's warm. You can do this several different times to establish your baseline.
Don't assume your fingers are the same size on both hands. The fingers on your dominant hand are frequently larger, so measure the specific finger the ring will adorn.
If your measurements fall between sizes, it's a better to err on the higher side: Removing metal to make a ring smaller is far easier than trying to add metal to make it larger.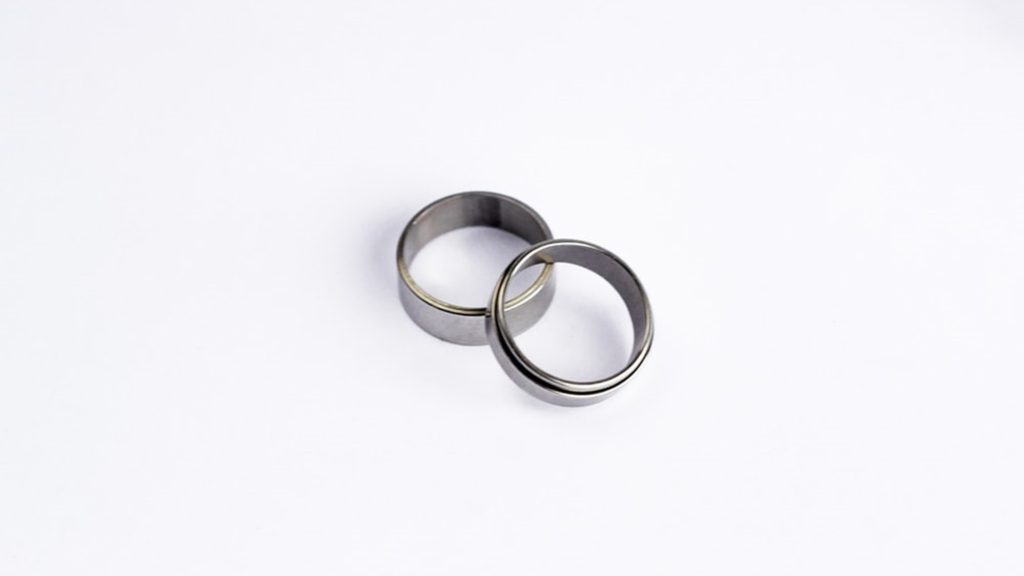 Ring Size: Real World Information
Be sure not to confuse ring width with ring size. The width of the shank, or band, is entirely separate from the length of its circumference. This has an impact on how the ring feels and looks when you wear it.
How it Feels
A wide shank/band will contact more of your finger, so it will feel snugger (smaller) than a thin shank/band of the same size. Traditional ring sizers have widths of around 2 mm, which is very thin, so be aware that using a common sizer "feels" different than wearing a ring of that size at a different width.
How it Looks
Photos are useful for comparing band widths, but you may want to envision how wide a band will be in context with your own finger. One way to envision how wider bands look is by stacking pennies.
5.0 mm wide = approximately 4 pennies
7.0 mm wide = approximately 5 pennies
9.0 mm wide = approximately 6 pennies
Choose Wisely
As with many decisions, your choice of vendor may figure into resizing decisions and future upkeep. For that matter it's important to choose a seller with sizing, cleaning and maintenance policies which set the recipient's mind at ease over a lifetime of wear.
Your best option may be using our printable ring size PDF along with a ring the intended wearer currently uses on the correct finger. 
A size 7 ring has a circumference of 17.3 millimeters. The ring size is based on a measurement of the inner circumference of the ring. You can use our printable PDF to see millimeter and actual size information.
Two diamonds of the same carat weight can appear to be different sizes, depending on both their physical spread. Two diamonds of the same color can look different, depending on their proportions. Learn how to select a diamond that remains bright from edge to edge and has best color appearance on our page on Diamond Cut.