*Link to New Prong Settings Tutorial*
Prongs that hold the stone are often made of platinum (even on yellow gold rings) because of its special features. With 4 prongs, you will show off more of the diamond, but 6 prongs will hold the diamond more securely and are highly recommended to avoid losing the stone. The Tiffany style is a classic example of a prong setting, usually 4 or 6 claws on a half rounded band. This simple and basic ring is a great way to show off your rock, since it is lifted up away from the finger and is 'floating' in space.
There are for's and against's for this style of setting. Many people like to be able to see the side view of their diamond and it is commonly thought the open sides allow more light to reflect through the diamond. But if you have followed the Pricescope and the Cut Adviser system and purchased an exceptional ideal cut then only the light that comes in the top can come out the top. The light that goes in the back goes out the back.
Another problem is these settings usually touch or are very close to the rear of the diamond – dirt gets wedged in and even a jewelers steam cleaner can't dislodge it. This dirt kills the brilliance of even an ideal cut diamond.
For diamonds set in prongs we recommend a medium to thick girdle to minimise the risk of chipping the edge of the diamond. You should insure this style because of the risk of chipping and loss if a prong is broken off (especially in 4 claw settings).
Examples of the prong settings shared by Pricescope community members
…and this is my experience (long)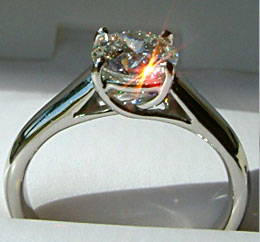 My Experience with GOG and Mark Morrell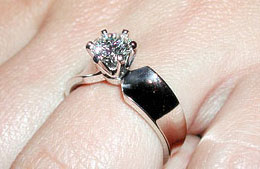 My Story – Thanks to Everyone Who Helped!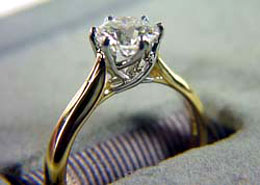 Yay, I did it! Come check out my ring!!!