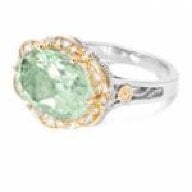 Joined

Aug 24, 2006
Messages

2,216
I know this dilemma comes up a lot for brides, so I thought I''d ask the PSer''s opinions. In what circumstance do you, or do you not invite the significant others of your bridal party?? And by S.O. I mean, long-term boyfriend/girlfriend, husbands, FI, etc.
This is my reason for asking this question: I am the BM in the wedding of a close friend at the end of March, but my FI is not invited to the wedding. When she sent out her invites the bride was not aware that my FI is now in town and living with me. She didn''t know this because for a number of reasons our friendship hasn''t been the greatest lately. The background is long and convoluted, but the bottom line is that she doesn''t approve of my relationship. Not because she doesn''t like my FI, or because he mistreats me or anything like that. From what I have been able to ascertain from her is that the basis of her lack of support is that me and my FI are of different faiths and she does not agree in principal with interfaith marriage. She''s made all of this judgement without having spent any significant time with my FI (her choice). However, despite all of the issues between us, I am still 100% participatory in her wedding. I am happy for her and her upcoming wedding and I want to share that with her.
When I actually received the invite it was addressed only to me which was logical because she didn''t know FI was now living here permanently. Before sending back the response card, I asked her whether the invite was for me only or for both me and FI (by this time she knew he was here). She responded that because of the #s and what have you, that the invite was only for me. My rational side knew that she would probably say that FI was not invited, because of numbers. However the emotional side of me was a bit surprised by her response because if I put myself in her shoes, I would have squeezed her plus-one in because she would be standing up for me as a BM and because it''s her FI.
There really is no right or wrong answer here. She is entitled to invite or not invite anyone she wants to her wedding. And I realize that it costs $$$ each time you add another plate. I totally accept that.
However, I just wanted to find out if other brides have been in similar situations where you have been asked to add people to the guest list?
I have no intention of asking her to do this of course. It''s a moot point for this particular case now. Being a bride myself I don''t want to offend, hurt anyone if placed in the same situation.
Thanks for your advice.